---
Kewa Pueblo Polychrome Aguilar Olla [SOLD]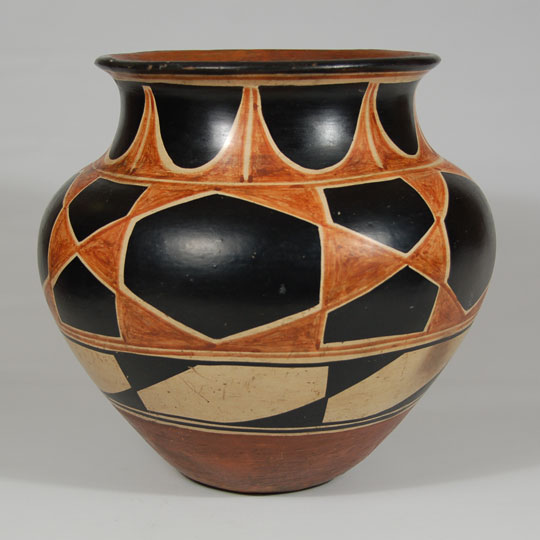 + Add to my watchlist Forward to Friend
The Aguilar sisters—Asunción Aguilar Caté and Felipita Aguilar Garcia—and their sister-in-law, Mrs. Ramon Garcia, were exceptional potters in the late 19th and early 20th century periods at Santo Domingo Pueblo (now Kewa Pueblo). They followed tradition in their early works in that designs on their pottery were typical strong black geometrics on creamy white slip. According to some records, sales of pottery of all potters drastically slowed around 1910 and Mr. Seligman, trader at the post at Santo Domingo, suggested they try developing something different to see if that would spur sales.
The three potters developed two new styles of decorating: one was red and black with white outlining; the other was almost totally black with thin white outlining. It has been surmised that Asunción Caté seemed to prefer the style using black and red, such as this one, but it is not known for certainty as all three potters may have produced all three styles. The majority of the surface of a jar was painted with strong heavy black pigment and accented with white and red. In this jar shown here, the red was used to provide a frame for the black designs. Below the mid-body, the potter provided the traditional black and cream design of the previous style.
The new design creations by these women were not received with any fanfare at the time and apparently sales did not noticeably increase, however, in the late 20th century, their pottery was received with much enthusiasm by collectors and their enormous creativity has now been recognized. They certainly are among the innovators of 20th century potters along with Maria Martinez, Helen Cordero, Popovi Da, Tony Da and others who were true creators of something new.
There is scant information on the Aguilar sisters and their sister-in-law, Mrs. Ramon Garcia. Betty Toulouse, author of Pueblo Pottery of the New Mexico Indians (1977) states:
"A potter by the name of Mrs. Ramon Garcia created a unique style which could have been called 'negative boldface' if one were inclined to invent pottery type names. The typical Santo Domingo angular geometric design elements in repetition on typical early Santo Domingo forms were featured. These she painted black on cream slip in the traditional way, but areas left unpainted or 'open' in the traditional designs were painted red or sometimes black in this distinctive style. The two painted areas were separated by a very narrow straight unpainted area which, when well done, became a framing line for the painted areas. Most of the known jars of this style appear to have been made by Mrs. Garcia and were produced in the early 1900s. Her death was recorded in 1915. If the style was carried on by other potters it was not for long."
If Toulouse is correct that Mrs. Ramon Garcia created the design and passed away in 1915, then it is presumed that the Aguilar sisters continued production for another decade as they are known for having supplied Mr. Seligman with jars of this style that were photographed at his trading post in 1921, and one of them entered pottery in the 1925 Santa Fe Indian Market.
According to Frederick H. Douglas in a 1941 publication: In 1915, or possibly late 1914 or early 1916, the two potters (sisters Felipita and Asuncion) stopped working, seemingly because of increasing age and infirmity, and the new movement came to an end. For no other potters at Santo Domingo had adopted the style or so far have taken it up since.
So, Betty Toulouse gave credit to Mrs. Ramon Garcia as the sole potter of this style and Frederick Douglas gave credit to the two sisters Felipita and Asuncion. It is likely that all three participated as a family.
There is still much research of unpublished records to be accomplished before this is all untangled but it is safe to say that all of the pottery of this style in the early 20th century was by these three potters, now we need to find a way to distinguish which potter produced which style in what time period.
In the mid-20th century, Monica Silva of Kewa Pueblo made similar jars and in the late 20th century, Robert Tenorio also made some, but the pottery of these two is distinguishable from these earlier ones by the Aguilar sisters and their sister-in-law. No other potters are known to have done so to date.
Condition: structurally in excellent condition. A section of the rim and some cracks on the body have undergone professional conservation which restored the jar to its earlier magnificence.
Provenance: from a gentleman in Albuquerque
References:
Pueblo Pottery of the New Mexico Indians: Ever Constant, Ever Changing (A Museum of New Mexico Press Guidebook) by Betty Toulouse.
Santo Domingo Pottery of the "Aguilar" Type: Denver Art Museum, Newsletter No. 37, June 1941
Felipita Aguilar Garcia & Asuncion Aguilar Caté (ca.1880 – 1925)
---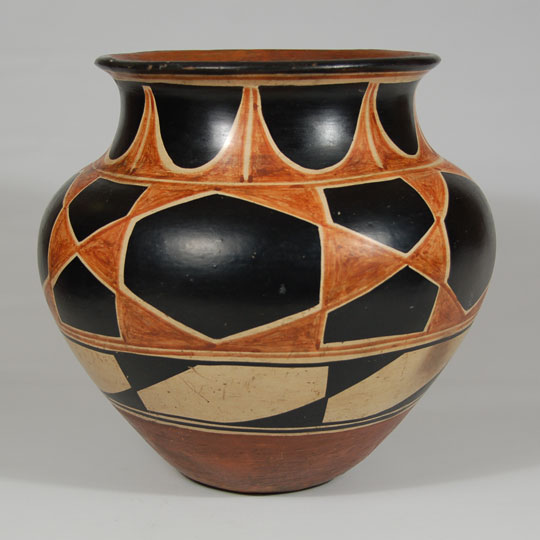 Click on image to view larger.
---
Adobe Gallery Recommended Reading

Pueblo Pottery of the New Mexico Indians: Ever Constant, Ever Changing
by Betty Toulouse