---
Sara Fina Tafoya Large Black Santa Clara Pueblo Jar [SOLD]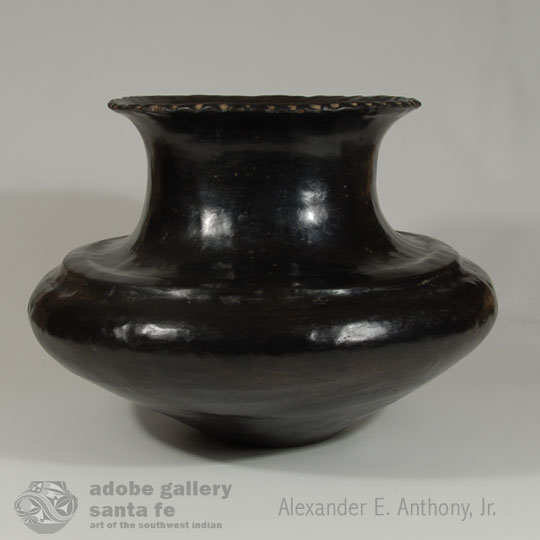 + Add to my watchlist Forward to Friend

Nineteenth-century pueblo potters, almost always female, did not seek fame or fortune. They went about their daily tasks of raising children, cooking for the family, and making pottery, sometimes for use in their homes and other times for sale for extra funds for daily needs. It is not in the nature of the pueblo people to be recognized as better at something than others of their village. They all worked for the benefit of the clan, family, village and neighbors.
Fame and fortune were forced on some potters because that is the way it is perceived in the White culture. Collectors want to collect from artists who are known by others to be exceptional at their work and this then does select individuals for attention. Names of women potters such as Nampeyo, Maria Martinez, Helen Cordero, Margaret Tafoya, Martina Vigil, Lucy Lewis come to mind when thinking of famous potters today. Of the older generation, there are Tsayutitsa, Mary Histia, Arroh-ah-och, Toña Peña Vigil, and others. None sought fame but they earned it and it was bestowed on them by us. That is why we recognize their names.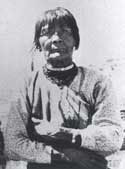 One of the most famous nineteenth-century Santa Clara Pueblo potters was Sara Fina Tafoya, followed in time by her daughter Margaret Tafoya. Sara Fina was an exceptional potter from about 1880 to 1950 and she made large magnificent pottery jars, some more than three feet tall. Because she lived and worked into the first half of the 20th century, her name is familiar to collectors today and her pottery is easily recognizable. One of her signature vessel shapes is the exaggerated-width water jars with a rolled-out rim.
This jar is typical in vessel shape of her fine work. The jar rests on a base of only four inches in diameter and the wall expands to over 13 inches as it rises upward, an amazing balancing feat. The one-inch wide band of clay just above the mid-body has resulted in defining the area as a double-shoulder. This was an innovation by Sara Fina and is most often seen on her jars of this style. The graceful concave neck, rising upward to a fluted rolled-out rim, is another sign of her work. The fluting at the rim has been said to represent rain, an appropriate symbol for a water jar. Santa Clara pottery today is thick-walled because a portion of the wall is carved away for designs. Sara Fina's jars are thin-walled because there was no need for carving into the clay. Her vessels would easily compete with the thin-walled Acoma jars of the finest potters.
It is difficult not to heap praise on Sara Fina. She was probably the first of many potters from Santa Clara to be recognized for outstanding workmanship, yet there are no records indicating she was ever awarded ribbons for her work and, other than being included in Seven Families in Pueblo Pottery exhibit at the Maxwell Museum in Albuquerque, there is no record of her entering shows or exhibits. It was typical of the older generation of potters to just make pottery and shy away from shows and exhibits. They were not looking for praise and accolades from the public.
This jar is truly a masterpiece from Sara Fina. It is large, well balanced, thin-walled, exquisitely burnished and beautifully fired. The thinness of the walls is amazing for such a large vessel. It is a testament to her abilities as an exceptional potter. The jar most likely dates to the late 1800s. It does not have bear paw depressions on the neck, something added by Sara Fina after 1900.
Condition: the jar is in excellent condition now after professional conservation of a very minor rim chip.
Provenance: from the collection of a family from California
Recommended Reading: Born of Fire: The Pottery of Margaret Tafoya by Charles King.
Autumn Leaf photo courtesy of Rick Dillingham, Fourteen Families In Pueblo Pottery.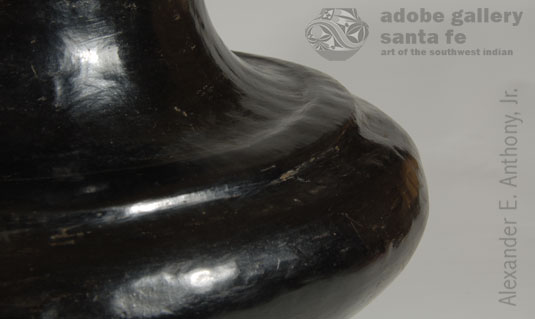 Sara Fina Tafoya (circa 1863-1950) Autumn Leaf
Category: Historic
Origin: Santa Clara Pueblo
Medium: clay
Size: 10" height x 13-1/2" diameter
Item # C3941

SOLD
---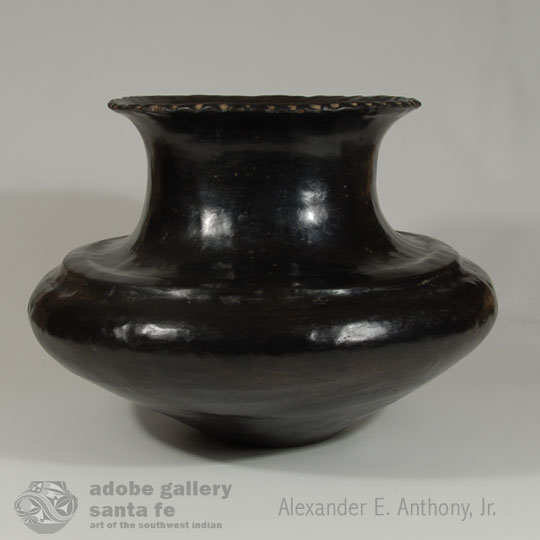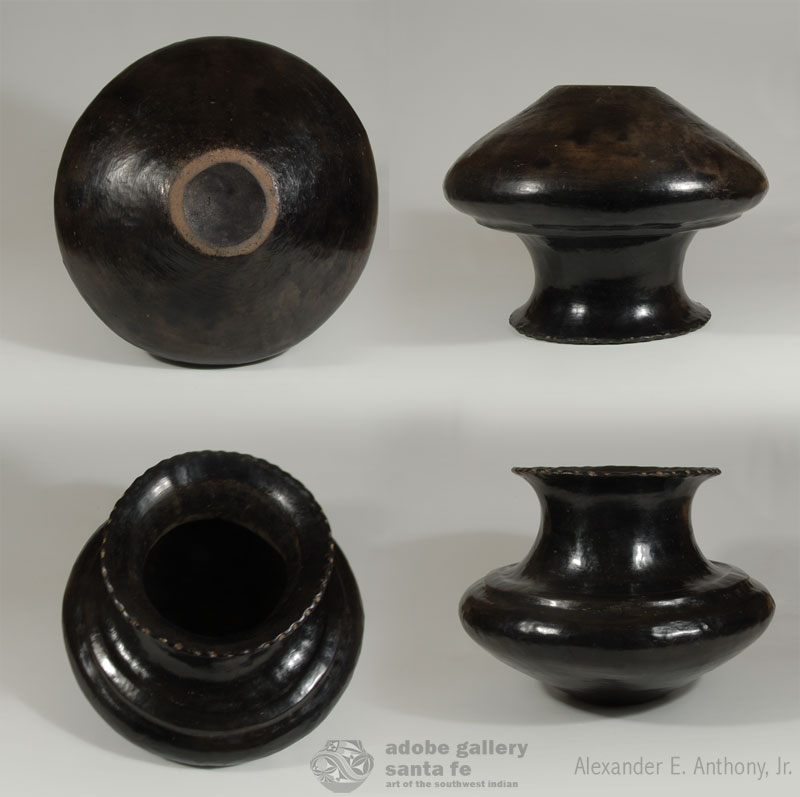 Click on image to view larger.
---
Adobe Gallery Recommended Reading