---
Outstanding Original Painting of Buffalo Hunt by Ma Pe Wi [SOLD]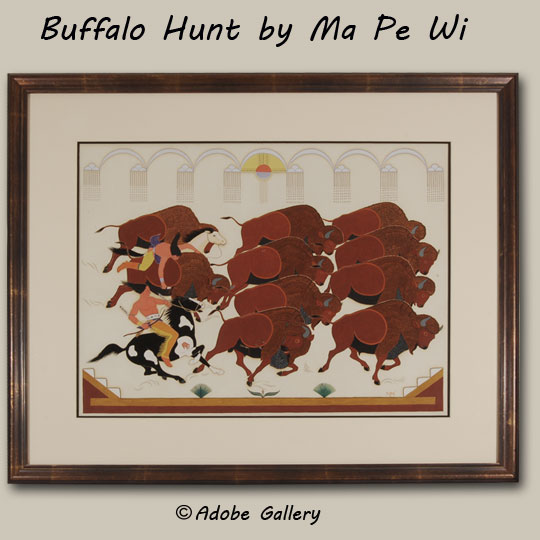 + Add to my watchlist Forward to Friend
This original watercolor painting was created by Velino Shije Herrera, or "Ma Pe Wi," of Zia Pueblo. As a member of the earliest known group of pueblo painters, Herrera holds a significant position in the history of Native American art. His outstanding work is displayed in countless private collections and museums around the country. Those who are familiar with Herrera's work know that he had a keen eye for action and energy. His work is colorful and full of life, with sharp detail and fine coloration. We'd say that each piece feels spirited and energetic in its own way, which suggests that Herrera was truly passionate about his work.
For this incredible depiction, Ma Pe Wi selected an appropriately intense subject of a traditional buffalo hunt by Native American hunters. This perfect pairing of artist and subject resulted in one of the finest works Adobe Gallery has seen from Herrera, as well as one of the strongest depictions of this particular subject to ever pass through our doors. A herd of ten buffalo sprint forward with their heads tucked down, but they're not moving quickly enough—two hunters on horseback have caught up. One hunter holds a bow and looks forward toward his target, who has taken three arrows to the abdomen. The second hunter has leapt from his horse onto the back of one of the buffalo, sinking a knife into its side. The scene is detailed and realistic, but it does not feel violent or excessive, which speaks to Herrera's talent. In the hands of a less-skilled artist, this scene might be either gratuitously violent or unrealistically soft; Herrera managed to adeptly walk the line between the two and create an image that is both realistic, accessible, and collectible.
Velino Shije Herrera selected bright, vibrant tones for the hunters and darker tones for the animals. Each figure received careful attention, with the buffalo appearing similar in composition but displaying slightly different facial expressions. Herrera's respect for his subjects—human and animal alike—is evident in these skillful and sensitive depictions. Herrera framed the scene in stylized symbolic imagery, using clouds, rain, and a Zia Pueblo Sun Symbol up above and kiva steps resting on thick brown lines down below. There is much to admire here for those who wish to explore the details, but what is most incredible is the impression of the piece. It's bold, impactful, and beautiful. This is an exceptional example of early pueblo work.
The painting is signed Ma Pe Wi in lower right. It is framed tastefully in a carved wood frame, using archival materials and Crescent Crystal UV Filtering glass.
Velino Shije Herrera (1902-1973) Ma Pe Wi (Oriole) was a Zia Pueblo painter who is regarded as one of the earliest known Rio Grande pueblo painters. Crescencio (Táe, 1879-1918) Martinez of San Ildefonso Pueblo was, by most accounts, the earliest of the pueblo easel artists. Martinez passed away in 1918, long before pueblo easel art was recognized as existing. He was followed by four young pueblo men who essentially constitute the first Pueblo artists to produce paintings for sale. The four were Martinez's nephew Awa Tsireh, Hopi artists Fred Kabotie and Otis Polelonema, and Velino Herrera. These artists became very productive around 1918, feeding off each other's enthusiasm. Dr. Edgar Lee Hewitt, Director of the Museum of New Mexico, arranged for the four young men to work at the museum in 1920. Famous New Mexicans Alice Corbin Henderson, Mary Austin, and Mabel Dodge Luhan were instrumental in finding outlets for the works of these artists. They purchased their paintings and found others to purchase them as well.
By the time he was 20 years old, Herrera's painting technique had improved tremendously, and his works showed great confidence and control. He was applying colors in complementary tones and could exhibit perspective in his works. Ethnographic accuracy was important to Herrera, and his paintings were strong in that regard. Clara Lee Tanner's Southwest Indian Painting: A Changing Art praised Herrera's skill and versatility: "Watercolor, Shiva, tempera and oils, all have been mastered by Velino Herrera. He has painted murals in homes and in public buildings; particular mention should be made of his fine work in the Department of the Interior, Washington, D.C. His work is done in a flat style, or with a little shading, or in full perspective. Full realism to abstract painting was developed by Ma-Pe-Wi, frequently the two styles appear in the same picture." Today, his paintings are quite collectible, because of both historical significance and the exceptional quality of work.
---
Condition: very good condition for its age
Provenance: this Outstanding Original Painting of Buffalo Hunt by Ma Pe Wi is from a private New Mexico collection
Reference: Southwest Indian Painting: A Changing Art by Clara Lee Tanner
Recommended Reading: Pueblo Indian Painting: Tradition and Modernism in New Mexico, 1900-1930, by J. J. Brody
Relative Links: Zia Pueblo, Awa Tsireh, Fred Kabotie, Native American Paintings, Crescencio Martinez, Ma Pe Wi, Velino Shije Herrera, Zia Pueblo Painter, Otis Polelonema
We've often wondered, are bison and buffalo the same? Though the terms are often used interchangeably, buffalo and bison are genuinely distinct animals. A "true" buffalo (Cape buffalo and water buffalo) is native to Africa and Asia. Bison are found in North America and Europe. So, it's correct to say bison, according to AZ Animals. There are several key differences between them and you go here for more information (this will take you to the AZ Animals website).
Ma Pe Wi, Velino Shije Herrera, Zia Pueblo Painter
Category: Paintings
Origin: Zia Pueblo, Tsi-ya
Medium: tempera
Size:
17-¾" x 23-¾" image;
27" x 32-¾" framed
Item # C4626A

SOLD
---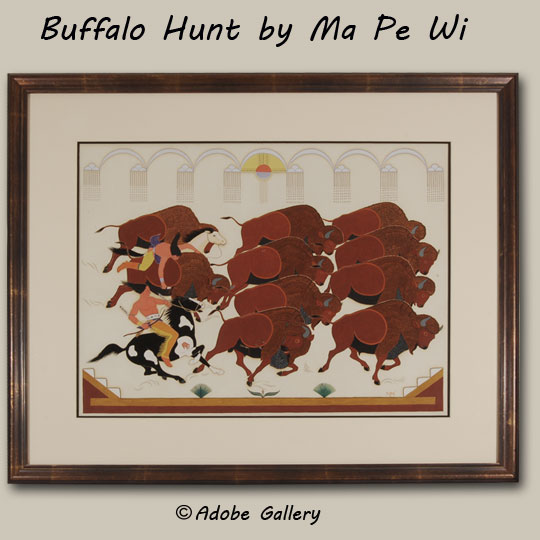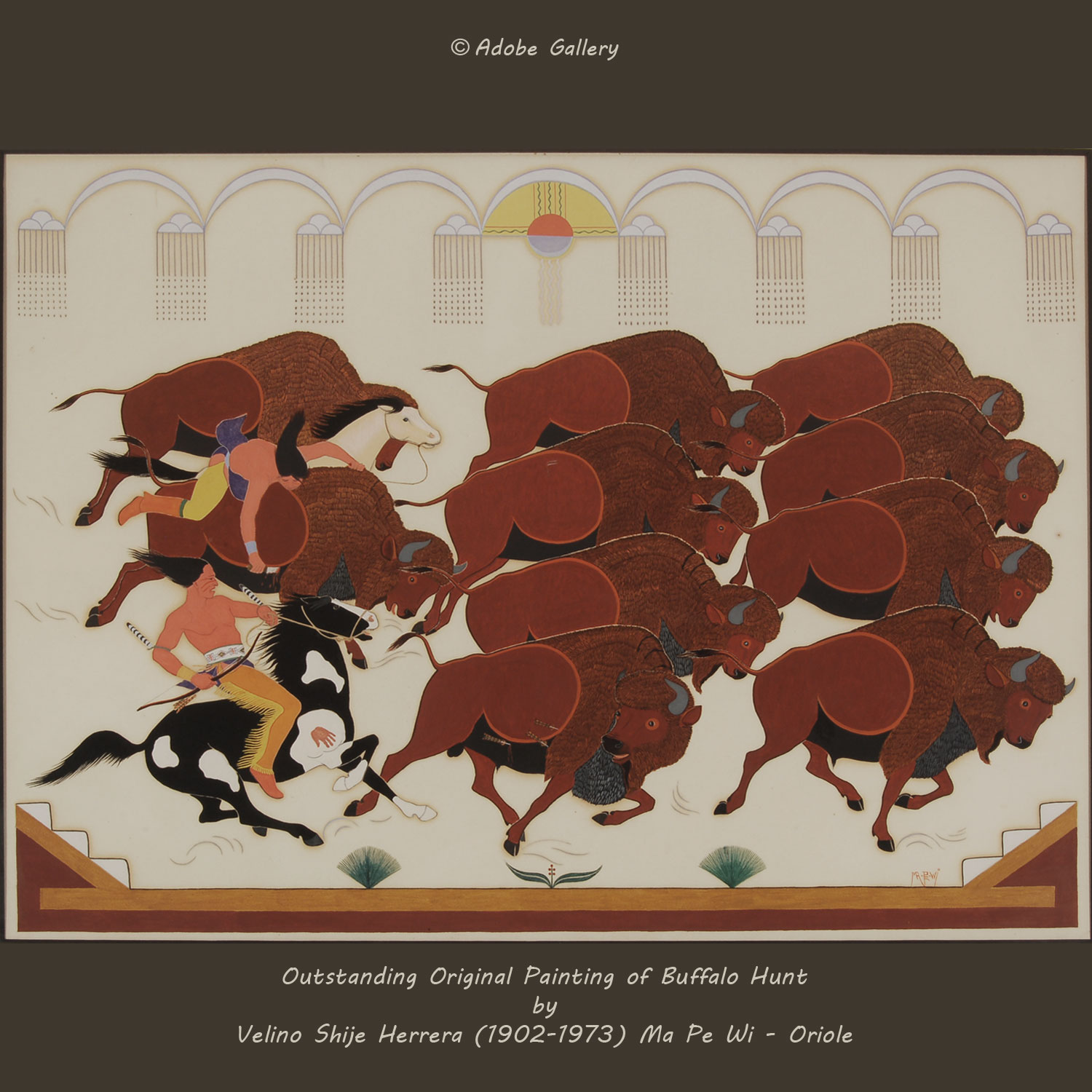 Click on image to view larger.
---
Adobe Gallery Recommended Reading
Adobe Gallery Recommended Items
---
If you are interested in this item, we would also like to recommend these other related items: