Lois and Derek de la Cruz
+ Add Artist to My Preferences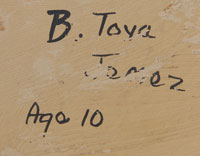 Lois and Derek are known for producing the most exquisite polychrome pottery. Their exceptionally beautiful designed pottery is seen in a multitude of colors, all derived from natural mineral sources in nature. They collect different colors of clay and minerals from nature which provides them with a wide-ranging palette for their painted designs. Precision in application of the painted design is a hallmark of this couple. Their painted designs are impeccable.
Lois is a sister to Gloria Goldenrod Garcia, Thelma Talachy, Lupita Gutierrez and Minnie Vigil, all of who are outstanding potters as well. Their mother, Petra Gutierrez, was an exceptional potter as well.

Lois and Derek started working together in 1970. According to Schaaf, Lois and Derek build and paint their pottery separately, then jointly fire them. They co-sign all the pieces.
Recommended Reading: Pueblo Indian Pottery: 750 Artist Biographies, C. 1800-Present, With Value/Price Guide, Featuring over 20 Years of Auction Records (American Indian Art Series, 1) by Gregory and Angie Schaaf