New Acquisitions
---
Save Time: here is your current two-week snapshot of all new arrivals. Visit Often!
New Arrival Items are posted daily by 12:30 a.m. (Mountain Time Zone USA). We check email often - even during non-business hours. Email is the best way to contact us about an item you're interested in. The first person to contact us gets first chance and we compare email and telephone timestamps to be fair. Please include the Item Number for faster reference.
How to purchase:
We also accept:


A Peek at Tomorrow's New Acquisitions
---
Membership allows access to Peek Item Details
---
Sold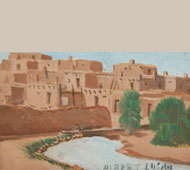 Albert Lujan (1892-1948) Weasel Arrow
Taos Pueblo Multi-story Building Scene
Paintings
Acquisitions from July 28, 2014 to July 14, 2014
July 14, 2014
---
No New Items Were Acquired.