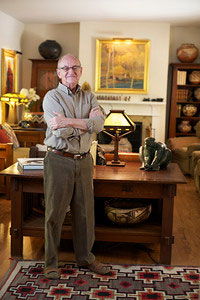 Adobe Gallery specializes in contemporary and historic Southwest Indian Pueblo Pottery and Native American Paintings.
Adobe Gallery's beautiful walk-in Santa Fe Gallery is located at the beginning of historic Canyon Road. Our staff is professional and knowledgeable in pottery and artwork from numerous Native American Pueblos and other southwestern Native Nations. See our menu for more information.
We also have a book selection that includes a variety of Southwest Indian Pueblo texts, arts and crafts, and other southwestern art subjects. If you cannot visit us in person, all of our items are fully described and viewable on this continuously updated website.
My Adobe Gallery
Sign up and make Adobe Gallery your very own! With a free My Adobe Gallery membership, you control e-alerts for your favorite styles, artists, and interests. Maybe you only want to hear about one artist or perhaps you're interested in all of our New Acquisitions. It's always up to you on how many emails you receive. You can also manage your wish list, keep track of any purchases, and much more. Your membership is important, and we will never share your information with anyone else for any reason.
Authenticity and Satisfaction
When acquiring art from us, Adobe Gallery is committed to ensuring your peace of mind. We can provide authentication of our fine art items. Also, we'll offer a full refund of the purchase price if you're not satisfied with your selection for any reason.
Evaluations and Consultations
While we don't offer appraisal services, FREE evaluations and consultations can always be arranged. We're always interested in purchasing or brokering Southwest Indian Pueblo Pottery and Fine Art collections.