New Acquisitions
---
Save Time: a current 2-week snapshot of new arrivals. Visit Often!
New Arrivals post here daily by 12:30 a.m. (MST). To be fair, the first person to contact us (click here) gets first chance (we compare email and voicemail time stamps often - even during non-business hours). Please include the Item Number.
Preferred Payment: cash or check. We also accept ↓
How to buy? Click here to Contact Us or:
A Peek at Tomorrow's New Acquisitions
---
Membership allows access to Peek Item Details
---
Sold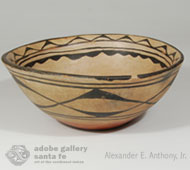 Cochiti Pueblo Highly Decorated Serving Bowl [SOLD]
Historic
Sold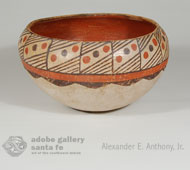 Isleta Pueblo Pottery Polychrome Serving Bowl [SOLD]
Historic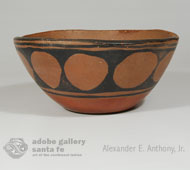 Kewa Pueblo Chile Bowl with Circular Designs
Contemporary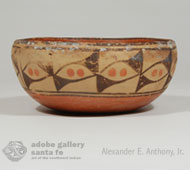 Much Used Small Zia Serving Bowl
Contemporary
Acquisitions from February 21, 2017 to February 07, 2017
February 07, 2017
---
No New Items Were Acquired.