About Us
---
Adobe Gallery's mission is to facilitate building quality Southwestern Art collections around the world and to help educate new collectors in the Historic Pueblo Pottery market.
Southwest Indian Pueblo Pottery and Fine Art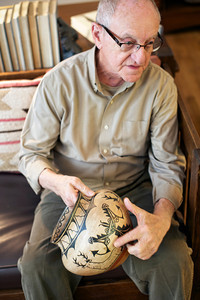 Specialists in contemporary and antique Southwest Indian Pueblo Pottery and Fine Art, Adobe Gallery's collection comprises Historic and Contemporary Southwest Indian Pueblo Pottery, Hopi Kachina/Katsina Dolls, Old Silver and Turquoise Jewelry, Baskets, Mission Oak Furniture, and Fine Art. All of this is viewable on our website, which is updated daily.
We do not offer appraisal services. However, evaluations and consultations can be arranged for pieces that are available for purchase or consignment. We're always interested in purchasing or brokering Southwest Indian Pueblo Pottery collections. Click here to submit artworks for consideration.

We can provide authentication of our merchandise to guarantee that what we sell is genuine. We also provide a full refund of the purchase price to please you if you are not satisfied with your purchase for any reason. What this means for you is peace of mind that you are buying authentic items and that you can feel comfortable with your purchase from us.
With MY ADOBE GALLERY, you sign up and control the free e-alert with how much contact information you receive. Maybe you just want to hear about one artist, or maybe you want to hear about everything that is happening everyday on our New Acquisitions page. It's always up to you and you're in control. We never share your information with anyone else. Thank you and enjoy. How to buy an item: email or call us at 505-955-0550.
---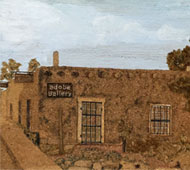 Alexander E. Anthony, Jr. launched Adobe Gallery in 1978 after serving as a Nuclear Engineer for 20 years in the United States Air Force.
As a Nuclear Engineer, U.S. Air Force Captain Alexander Anthony was in charge of science and publications on the staff of the U.S. Antarctic Projects Officer, 1963-65. For his accomplishments, a mountain range was named in his honor: Anthony Bluff.
Even before the end of this distinguished military career, Alexander's personal interest was collecting pueblo pottery, which was primarily what the gallery presented for its first 3 years. Eventually, the range of art pieces expanded with the addition of Hopi Katsina dolls and a few early 20th century Navajo rugs. By the 10th anniversary, Adobe Gallery grew to twice its initial size; pawn jewelry and 19th century southwest Indian baskets were now included.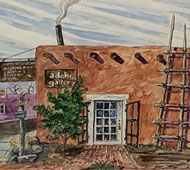 By its 15th anniversary, Adobe Gallery had expanded even further, displaying Mission Oak furniture throughout 7 rooms of the historic Antonio Vigil home. Three years later, further expansion of the gallery acquired the remaining 3 rooms of the 125-year-old building in Old Town Albuquerque.
In 1985, he co-founded Avanyu Publishing, Co. with Brent Ricks. Together, they published 18 books relating to Southwest subjects. He is active in the day-to-day operations of both businesses.
In its 21st year, the gallery added a website and inaugurated its global presence. Two years later, a gallery location at 221 Canyon Road in Santa Fe, New Mexico was opened.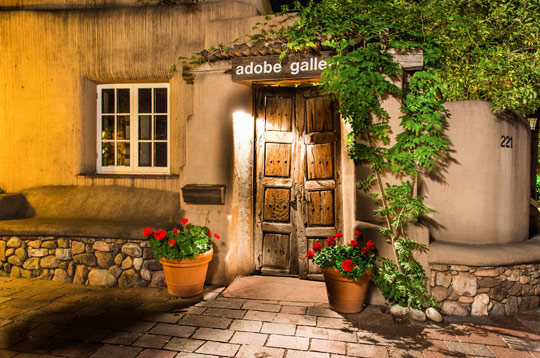 In the last fifteen years, Mr. Anthony has lectured extensively at museums, colleges, shows, and conferences on subjects relating to Southwest Indian items. He has served as a judge at the Gallup Inter-tribal Ceremonial, the Santa Fe Indian Market and the New Mexico State Fair. He has also taught classes at the University of New Mexico. He appeared on the Antiques Roadshow in 1997. He is also a consultant for the Antiques Roadshow.
After 25 years, Adobe Gallery Albuquerque was closed and consolidated with Adobe Gallery Santa Fe, New Mexico, comfortably located in the heart of Indian Country. We are now only located on Historic Canyon Road - THE ROAD for Art, over a Hundred Galleries, Boutiques and Restaurants in one half mile.

---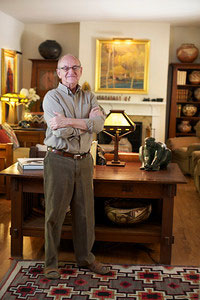 What Others Are Saying About Adobe Gallery
"Formerly located in Albuquerque, this Santa Fe gallery will take you through small, intimate rooms filled with some of the best art the Southwest has to offer. Hand-woven Navajo textiles absorb echoes on historic walls that almost talk. As you pass from room to room, and the original hardwood floors creak beneath your feet, you will appreciate the collection of for-sale art that ranges from paintings, to baskets, to traditional Pueblo pottery." -wcities

"THE best gallery in Santa Fe for authentic Pueblo art and artifacts. They sell both historic and contemporary items. Al, the owner, is extremely knowledgeable and is a leader in his field. He has published many books on the subject. I have bought many Hopi Katsina dolls from Al and they are my favorite pieces in my collection. His prices are fair, too. If you can't visit this gallery in person, check out their website, it's really nice and easy to navigate. My favorite gallery in Santa Fe!!!" - Google Review

"I have been visiting Adobe Gallery for more than 10 years. Every time I visit, I learn something new from Al and the staff, who are extremely knowledgeable about Native American art and artists. They are always teaching, in their professional and approachable way, how the art they carry is made, and why it matters to both the artists and to collectors like me." - Yelp Review
"When buying historic pottery, trusting the integrity and experience of the dealer is key. That's why my wife and I have been regular customers of Adobe Gallery. In business for 42 years with owner Al Anthony at the helm, the gallery consistently presents the most diverse selection of historic pueblo pottery we have found. True experts in what they sell, Al and his staff obviously enjoy sharing their knowledge with customers. It is a pleasure to do business with them." - Google Review
---
You can read about our reviews on our Facebook page.
TAGS: Navajo rugs, pawn jewelry, Avanyu Publishing, Co, contemporary pottery, historic Pottery, Fine Art, Hopi Kachina/Katsina Dolls, Jewelry, Baskets, Mission Oak Furniture, Fine Art, Historic Pueblo Pottery