---
19th Century Acoma Pueblo Olla with Tularosa Design [SOLD]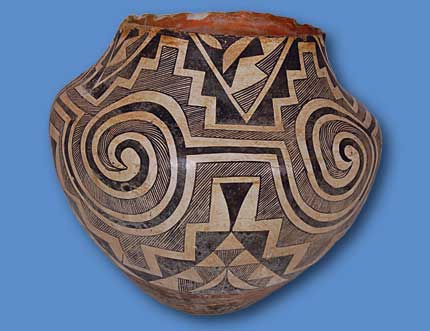 + Add to my watchlist Forward to Friend
Acoma Pueblo potters have claimed the inherited right to use designs of the earlier Puebloan groups that lived in the early Southwest. The designs of particular striking beauty are those, appropriated by 20th century Acoma potters, referred to as Tularosa Black-on-white. The Tularosa vessels date from A.D.1100 to 1250.
Acoma potters have been particularly involved with the use of these designs since the late 19th century.
The Tularosa Basin is located in the area east of the Rio Grande in southern New Mexico, mostly in Otero County. It lies between the Sacramento Mountains to the east and the San Andres and Oscura Mountains to the west. Notable features of the Tularosa Basin are White Sands National Monument, Trinity Site, and the Carrizozo lava flows.
This Acoma jar is an excellent example of the use of Tularosa patterning. The curvilinear scrolls that circumnavigate the mid body are flanked on the upper and lower extremities with rectangular and triangular stepped black-on-white designs. Throughout these designs are very fine hatching lines that fill the previously undecorated white areas. As was the Tularosa tradition, the design elements are close together, solids are heavy, and hatching lines are very fine.
This jar is larger than average water jars and thereby provided space for fully developing the intricate designs. The jar was made for use at the pueblo as evidenced by the worn clay body near the rim, which was originally scalloped. Most areas of the scallop rim still exist. The jar was used as a water jar, thus the eventual accumulation of calcium deposit on the exterior as the water evaporated through the vessel walls. The combination of calcium deposits and rim erosion indicate a rather long-term use of the jar. The jar dates to the late 1800s.
This is one of the most attractive styles ever produced by the Acoma potters. As black and white photographs often are stronger in appeal than color photographs (see Ansel Adams), so too are some of the black and white pottery that is often overlooked by collectors in preference to three- and four-color examples. This jar is an excellent example to illustrate this point.
Potter Unknown
Category: Historic
Origin: Acoma Pueblo
Medium: Native Materials
Size: 12" tall x 13-1/2" diameter
Item # 23260

SOLD
---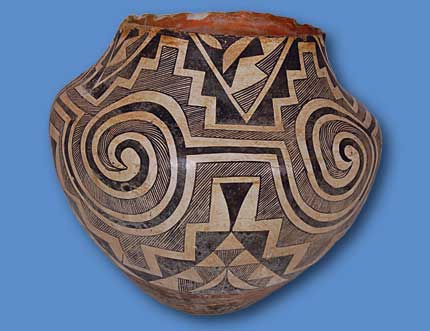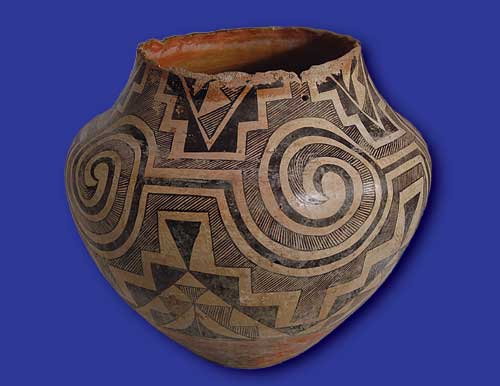 Click on image to view larger.
---