Southwest Indian Pottery
---
+Add category to My Preferences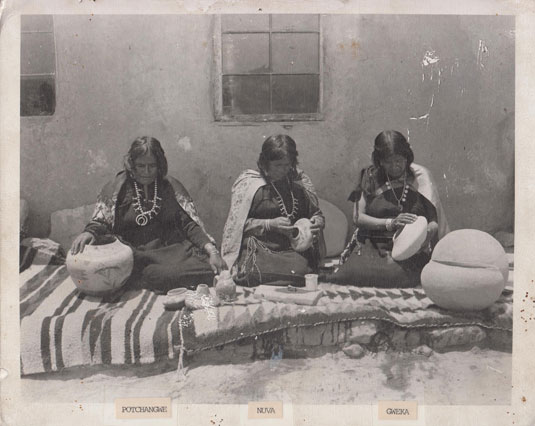 The New Mexico and Arizona Pueblo potter possesses an innate talent in the fine and applied arts. She is a born artist, possessing a capacity for discipline and careful work, and a fine sense of line and rhythm. Some of these jars were made for use at the Pueblos in the daily lives of the households and some were made for sale to tourists and collectors. Regardless of intent, the artistic treatment was the same. These vessels are true expressions of potters' artistic talents. Potters draw their spiritual sustenance from their tribal life, and that life is all a design, whether a ceremonial dance or ramifications of daily life. The designs applied to their pottery are influenced by life at the Pueblo. These pottery vessels are testimony to their talents even if their identity remains a mystery.
Above Image: As Dr. Ed Wade has frequently stated, there were many Hopi-Tewa potters working at the same time as Nampeyo. Evidence of this is illustrated in this rare photograph of three potters staged by an unknown photographer at an unknown date. The potters are identified as Potchangwe, Nuva, and Gweka. We are appreciative to Hopi-Tewa potter, Mark Tahbo, for sharing this photograph with us. The photograph was recently found in a burned out home at First Mesa.
Note: click on any of the ORIGIN links (below or to the right) to see all of the Pottery items we currently have from that Native American Nation.
---