Special Exhibits and Shows
---
Here you will find a list of Adobe Gallery Current Special Exhibits
Note that you can also view expired Special Exhibits and Shows: a great reference/research tool and another chance to see those old shows again.
Special Value Offers from Adobe Gallery
---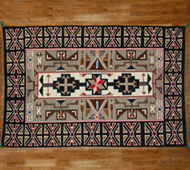 Paintings by Early Students of the Santa Fe Indian School
---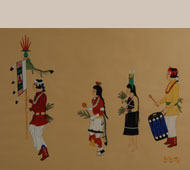 August 08, 2016 until October 16, 2016
Show Extended - by popular demand!
The Santa Fe Indian School's art department was created in 1932 by Kansas-born, Chicago-educated artist Dorothy Dunn. The style she taught—which eventually became known as the "Studio Style"—was heavily influenced by the San Ildefonso painters of the early 20th century, documenting and celebrating the rituals, ceremonies and mythology of her growing student body's various Pueblo homes. This exhibit represents the creation, evolution, and eventual perfection of a singular style of painting.
This show has started. View more details on the show.