Special Exhibits and Shows
---
Here you will find a list of Adobe Gallery Current Special Exhibits
Note that you can also view expired Special Exhibits and Shows: a great reference/research tool and another chance to see those old shows again.
Hopi Basketry Plaques from Second and Third Mesas
---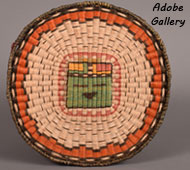 June 15, 2021 until September 01, 2021
Hopi baskets are rich in beauty and cultural significance. Like the pottery produced at First Mesa, the wicker baskets made at Third Mesa and the coiled ones made at Second Mesa celebrate their makers' connection with the land. Even today, these baskets are made using little more than plant materials and sunlight. The creation of one basket requires countless hours of work and a great deal of knowledge. Their significance to the Hopi people cannot be understated. They are used as gifts, prizes, currency and—most significantly—a wide variety of ceremonial purposes.
This show has started. View more details on the show.
Beatien Yazz Painting Exhibit
---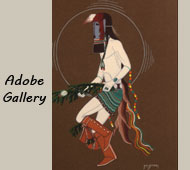 July 05, 2021 until September 05, 2021
Diné artist Beatien Yazz was an extraordinarily talented painter. During his long career and in the years since his passing, his works have remained incredibly popular among collectors of Native American paintings.
This show has started. View more details on the show.