Special Exhibits and Shows
---
Here you will find a list of Adobe Gallery Current Special Exhibits
Note that you can also view expired Special Exhibits and Shows: a great reference/research tool and another chance to see those old shows again.
Pueblo Historic OLLAS, Dough Bowls, and Storage Jars
---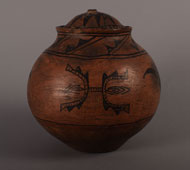 January 15, 2023 until May 31, 2023
Historic pueblo pottery is basically defined as that which was produced at the still-occupied New Mexico and Arizona Pueblos, from the time spanning 1700 to 1940. Very little early historic pottery (1700 to 1880) is available on the market today, as most has found its way into museums or private collections.
This show has started. View more details on the show.
Helen Cordero's Storytellers and Figurines
---