Special Exhibits and Shows
---
Here you will find a list of Adobe Gallery Current Special Exhibits
Note that you can also view expired Special Exhibits and Shows: a great reference/research tool and another chance to see those old shows again.
DOUGH BOWLS: A Pueblo Necessity
---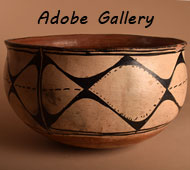 FROM NAMPEYO OF HANO TO JAMES GARCIA - A Century of Hopi-Tewa Pottery
---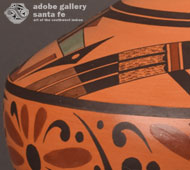 August 01, 2020 until August 31, 2020
Legendary Hopi matriarch Nampeyo of Hano used designs created by her prehistoric ancestors to bring Hopi pottery to the masses in the early 1900s. Today, Hopi potters like James Garcia use Nampeyo's designs as inspiration for their new works. This exhibit, which features works by both of these potters and many others who produced between them, will showcase the ways that today's artists continue to be influenced by those of yesteryear.
This show has started. View more details on the show.