Southwest Indian Pottery: Historic
---
+Add category to My Preferences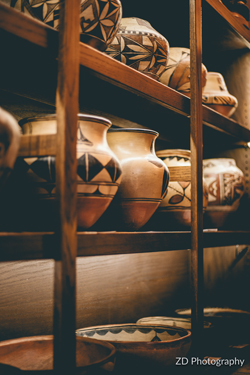 Historic pueblo pottery is basically defined as that which was produced at the still-occupied New Mexico and Arizona Pueblos, from the time spanning 1700 to 1940. Very little early historic pottery (1700 to 1880) is available on the market today, as most has found its way into museums or private collections.
Late historic pottery (1880 to 1930), although not abundant, is more often available on today's market than earlier examples. These pieces were utilitarian in nature and use, with patinated surfaces and light wear from daily use enhancing their beauty immeasurably. We consider these rare indigenous artworks to be National Treasures.
Historic pottery is our specialty, and we are pleased to offer a thoughtfully curated selection of works from a variety of pueblos. With the majority of historic works being unsigned, the pieces listed here are mostly attributed to pueblos rather than an individual.
Photo by ZD Photography - used with permission.
View Other Categories Here:
View by Origin: