---
Acoma Black-on-white Tall-neck Jar by Mary Histia [SOLD]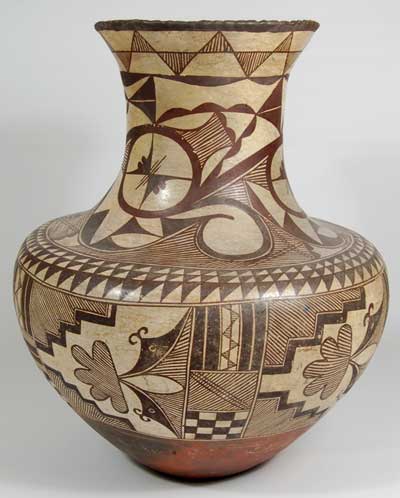 + Add to my watchlist Forward to Friend
Occasionally we acquire a jar that we can say is an extraordinarily beautiful one. This polychrome olla, dating from the late 1800s, qualifies for that award. Formed in native clay with ground pottery shard temper, it has a rag-wiped white slip, red neck interior, and red-slipped underbody with concave base. The design was executed entirely in Black-on-white, but the red underbody classifies the jar as "Polychrome."
The intricate fine-lines and the precise volute elements lead to an attribution to Mary Histia who is recognized as certainly the finest Acoma potter of the period. According to Batkin, she traveled to Washington DC and became popular as an unofficial potter to President Roosevelt. Her pottery soon decorated many government offices.
Histia deserves to be classed as a Modernist. Her art is old, yet alive and dynamic—an expression of a continuing vigor. She did not confine her art to a mere repetition of her previous work, nor did she resort to meaningless geometric designs, but she continually experimented and added to her repertoire. Her designs are at once classic and modern.
The jar has a slight tilt. This is not a reflection on the work of the potter, but occurs quite frequently in large jars during the drying process as the weight of the wet clay tends to give way at times. One must accept the work of an artist in the form in which it is delivered. What one person may consider a fault is not considered so by those who understand the process of building pottery by hand. The jar has the distinctive ring of fine pottery.
Provenance: A gentleman brought this jar to the gallery in Old Town on October 18. 1995 and said he was cleaning out his grandmother's house following her death and he found this jar.
Mary Histia, Acoma Pueblo Potter
Category: Historic
Origin: Acoma Pueblo, Haak'u
Medium: Pottery- Historic
Size: 14" tall x 11-3/4" diameter
Item # 21191

SOLD
---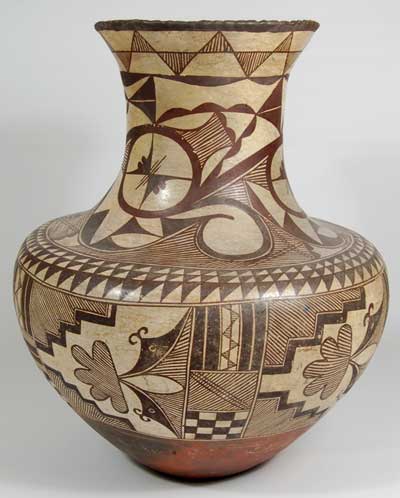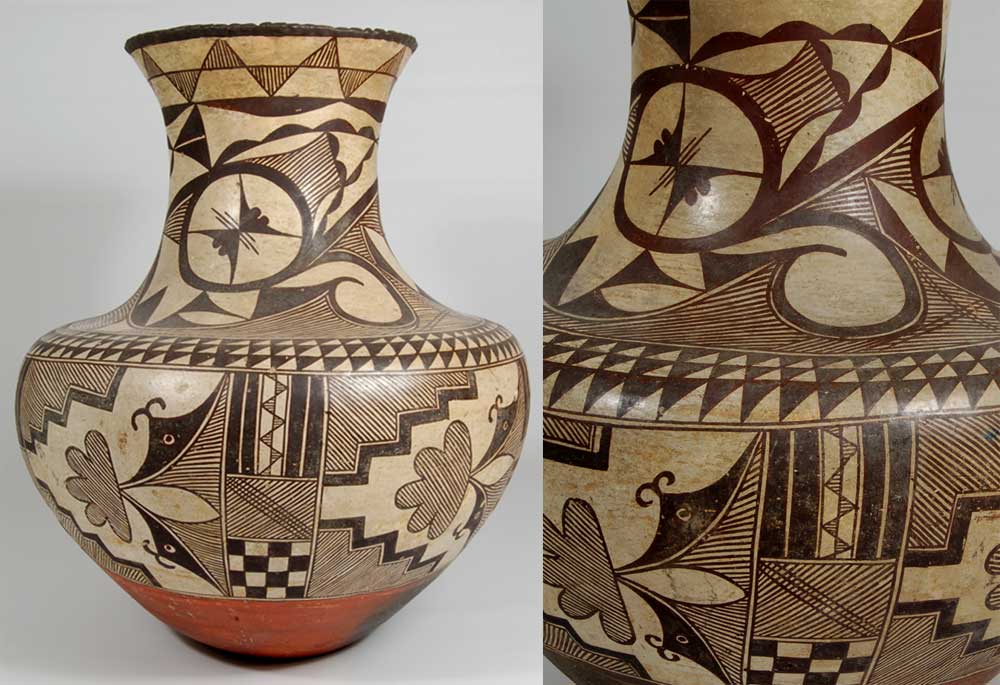 Click on image to view larger.
---