---
Kewa (Santo Domingo) Pueblo Early 20th Century Depression-era Necklace [SOLD]
+ Add to my watchlist Forward to Friend
Special Value Offer: The estate from which this necklace belongs has asked us to reduce the price from the original price of $1250 to a new price of $850.
During the 1920s when the Depression era was in full swing, New Mexico Pueblo Indians were severely affected. At Kewa Pueblo, the Indians became very resourceful and began producing jewelry from whatever material they could find. One particular folk art creation they produced has become a very collectible item: the Depression era necklace.
These necklaces were made from several "found materials." The beads were generally made from bone, the black probably from automobile battery casing, the white backing for the inlay turquoise probably from some mineral form, and the turquoise was genuine. They were usually in the squash blossom style, with pendants protruding from the sides and a larger pendant at the bottom.
This one is one of the earlier styles incorporating mostly turquoise rather than the mixture of red plastic and other materials that were generally in the shape of birds. The major pendant on this necklace appears to be a foot print of perhaps an animal—since it has only four toes. The unusual aspect of this necklace is the use of turquoise beads for the majority of the necklace rather than the usual use of bone material for the entire length.
Recommended Reading: Article: Santo Domingo Pueblo Jewelry by Sally and J. Roderick Moore in The Magazine Antiques, Brant Publications, Inc. July 2009, vol. CLXXVI, no. 1. pp. 56-61.
Jeweler Unknown
---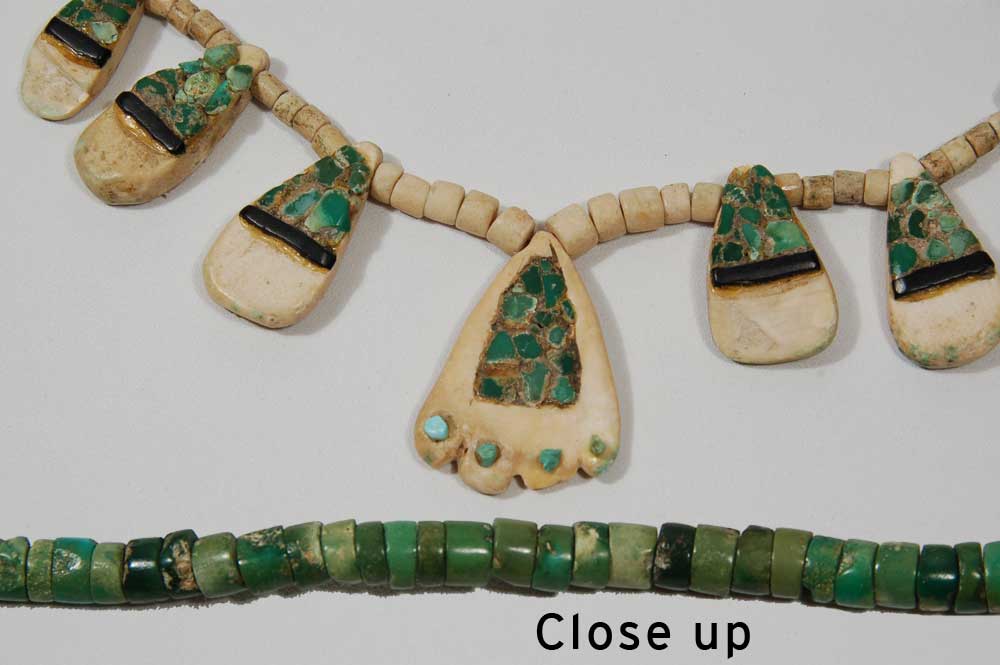 Click on image to view larger.
---