---
Polychrome Hupa Trinket Basket [SOLD]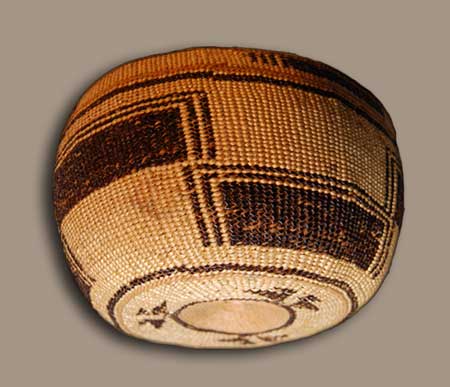 + Add to my watchlist Forward to Friend
Weaver Unknown
Category: Bowls and Other Forms
Origin: Hupa
Medium: Bear Grass And Maidenhair Fern
Size: 3-1/2" deep x 7" diameter
Item # C2662B

SOLD
When we posted this basket on our site, we mistakenly listed it as a Hupa hat. We received an email from a good friend from California, who is certainly more of an expert in basketry than I. He wrote:
I'm writing today to offer a correction, and say that the Hupa basket you are currently showing is not a hat. Hupa hats—since they are designed to be worn--follow the axiom from the Bauhaus School of design: "Form follows function," and a Hupa basketry hat is necessarily widest at the rim. The basket you are showing is a trinket basket, and the rim is inverted. This would not allow it to be worn on the head. Since the hats and other baskets are woven with the same techniques, the shape is one of the best diagnostics to determine whether or not a piece is a hat or a small basket for another purpose. (There are certain aspects of the design zones on hats that are also fairly traditional and characteristic, but this is less obvious than the matter of dimensions and proportion, and can also be seen to varying degrees on other basket forms. For example, the top of a hat—the start of the basket—is often more carefully finished and has more design going on around the start, since it will be on view when the hat is worn, as opposed to a basket intended to rest on the start, or base. But this is a relative distinction, and the shape tells the story here.)
We thank him and we always appreciate any comments or corrections offered by clients and other dealers.
This basket is in extraordinary condition. There are no missing stitches, and the edge cord is intact. It is an excellent example.
Weaver Unknown
Category: Bowls and Other Forms
Origin: Hupa
Medium: Bear Grass And Maidenhair Fern
Size: 3-1/2" deep x 7" diameter
Item # C2662B

SOLD
---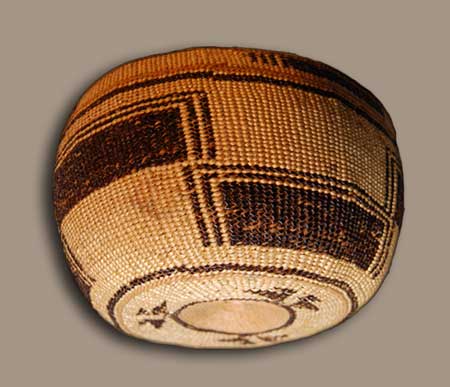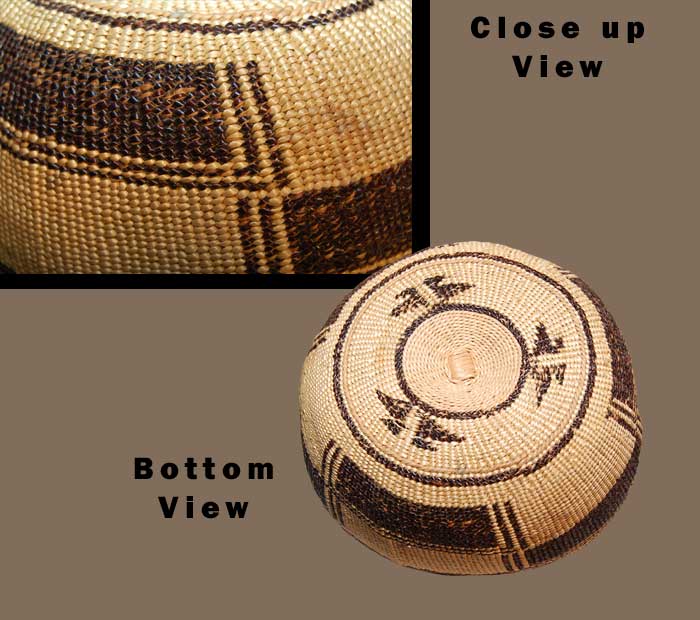 Click on image to view larger.
---