---
Cottonwood Root Kokopelli - Flute Player Katsina Doll [SOLD]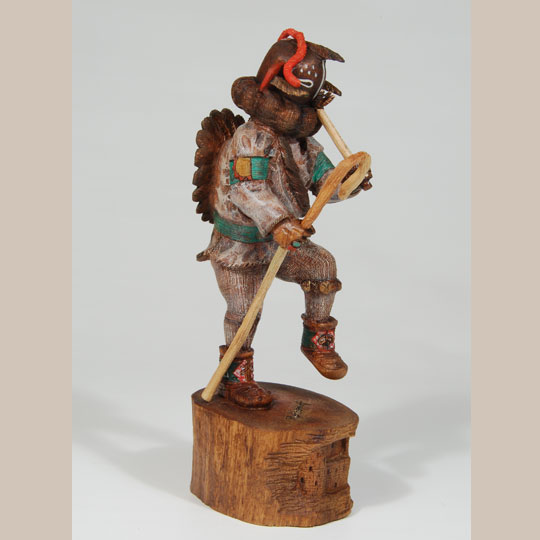 + Add to my watchlist Forward to Friend
Undoubtedly Kokopelli, the Hump-backed Flute Player, has caught the imagination of more people than any other Hopi kachina. Some of that interest is because he is so blatantly phallic in nature, but beyond this he appears in every nook and cranny of the Southwest. His image is found in all the pueblos and among the southern Indians as well. He dances happily around a Hohokam pot and chases mountain sheep through the canyons of the San Juan. There is always speculation about what inspired this personation. Ties with Mexico and even South America have been suggested for he appears in these places.
"Among the Hopi he is a Flute Player only when he borrows a flute to dance. Usually he appears in the Mixed Kachina Dances or sometimes in a Night Dance. Despite these relatively minor appearances, he is thought of as a seducer of girls, a bringer of babies, a tutelary of hunting, and an excellent subject for the carving of tihus or kachina dolls." Wright, 1973
This carving would appropriately be called a flute player katsina. This Kokopelli is presented in a dance position and playing a flute. He displays the three-pointed phallic projections for a nose. Cliff dwelling structures are carved into the pedestal, reinforcing the concept that the flute player is seen in prehistoric ruins. The doll carries a sun shield on his back, a staff in his left hand and a flute in his right hand. He was finished in oil based stains. The carving is completely of wood.

Kevin Pochoema, born in 1965, is of the Greasewood Clan and is from the Hopi village of Bacavi on Third Mesa, Hopi Pueblo in Arizona. He is a top prizewinning carver, receiving prestigious awards from the O'odham Tash, Gallup Inter-tribal Indian Ceremonial, Museum of Northern Arizona, and many other venues. His concentration on detail, proper body proportions, flow of clothing, and preciseness of painting have been recognized by judges at such prestigious venues.
Condition: newly made
Provenance: from the artist
Reference: Kachinas: A Hopi Artists Documentary by Barton Wright
Kevin Pochoema, Hopi Pueblo Carver
---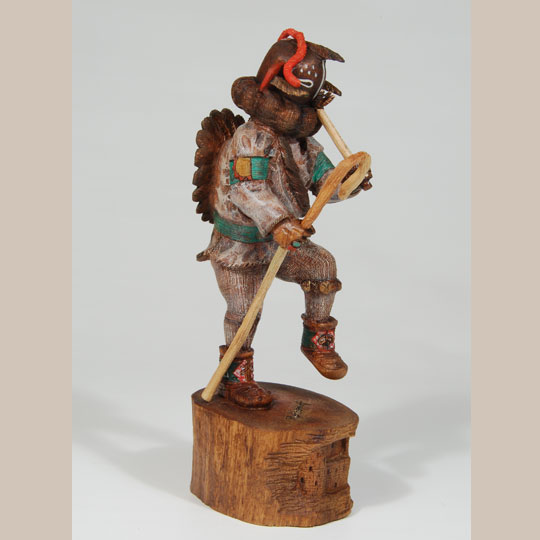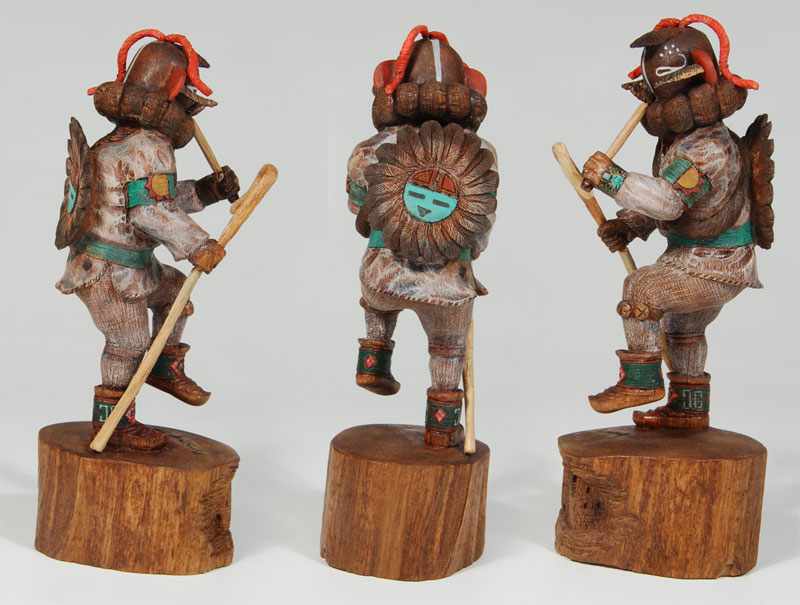 Click on image to view larger.
---
Adobe Gallery Recommended Reading

KACHINAS A Hopi Artist's Documentary [SOLD]
by Barton Wright