---
Cream Heishi and Turquoise Nugget Santo Domingo Necklace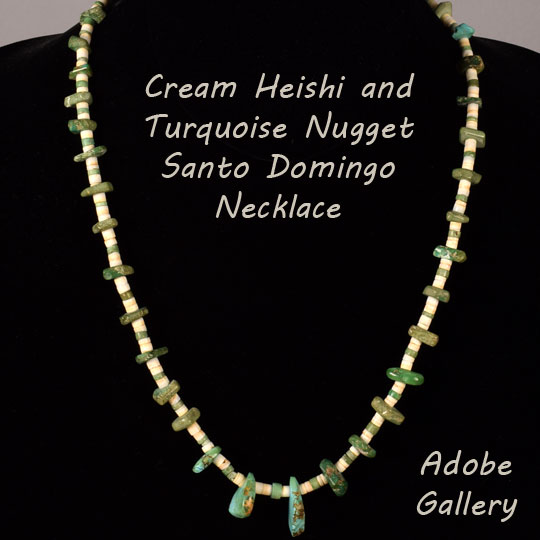 + Add to my watchlist

Forward to Friend

This heishi and turquoise necklace is the marriage of two worlds. Necklaces in this style have been used by the Pueblo people for centuries and would be worn by both men and women in Plaza dances. Traditionally, this necklace would have been strung on cotton or woven material. However, this necklace was made for the more contemporary market—strung with metal clasps— but in the same style as its ceremonial sister.
Square pieces of cream shell and turquoise were drilled in the center, strung, and then sanded to become cylindrical. They were then removed and restrung into the current pattern. Cream heishi in groups of two or four at a time alternate with turquoise formed in heishi fashion. Two inches from the clasps nugget turquoise pieces begin to be alternated into the stringing pattern. The nugget turquoise pieces increase in size as they move away from the clasps and culminate in a large exquisite piece as the pendant.
Heishi: made from coral, turquoise or seashell. The shells or coral are first cut into small square sections, drilled in the center, strung on wire or string, then sanded by hand, in an up and down stroke, until each one is round. That sounds easy but is not. It is important to exert the same pressure on every stroke to achieve heishi of the same diameter when finished. The shell is punched out in a square shape, hole drilled through center, strung, and then sanded to the diameter it needs to be. According to the Indian Pueblo Cultural Center, the beaded tradition is most closely associated with Santo Domingo Pueblo, known for creating beautiful shell and gemstone beads by hand. These beads are called "heishi," which means "shell" in the Santo Domingo language Keres. Necklaces with similar bead styles have been found in the ancient Anasazi sites Chaco Canyon and Mesa Verde, and heishi may be the oldest form of jewelry in New Mexico. Traditionally, heishi beads are smooth flat discs, but today the term is used to refer to any small beads that are strung together. Note: Sometimes the word is incorrectly seen as heishe. Think of "e" before "i" and you have the correct way to spell this word.
---
Condition: This turquoise and heishi necklace is in very good condition
Provenance: This Cream Heishi and Turquoise Nugget Santo Domingo Necklace is from an estate in eastern Washington.
Recommended Reading: TURQUOISE TREASURES The Splendor of Southwest Indian Art by Spencer Gill
Relative Links: Southwest Indian Jewelry, KEWA, Santo Domingo Pueblo, necklace
Jeweler Unknown
---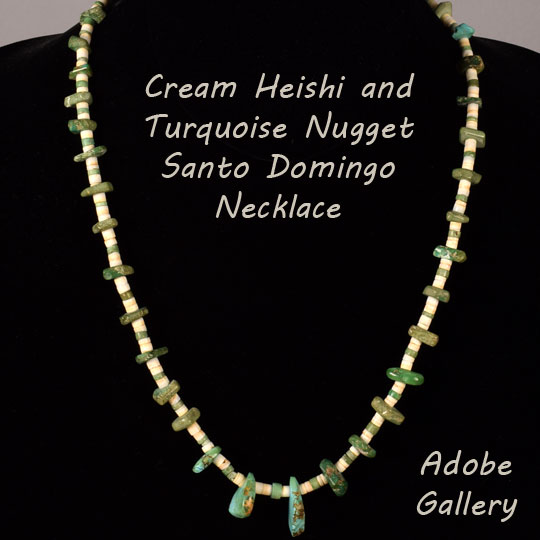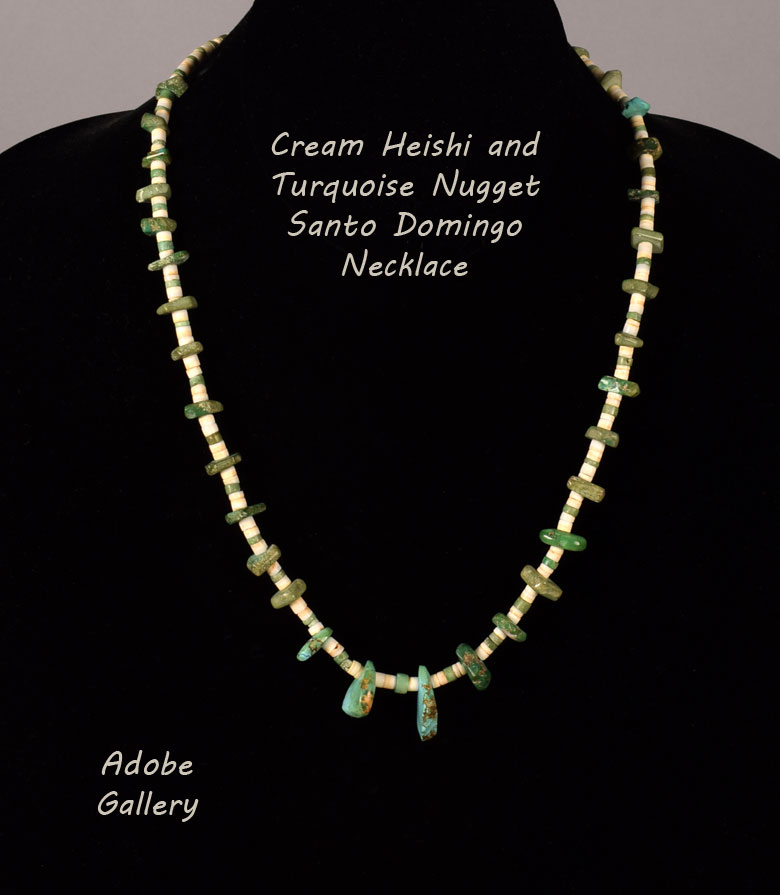 Click on image to view larger.
---