---
Historic Santo Domingo Pueblo Magnificent Black on Red Aguilar Pottery Jar [SOLD]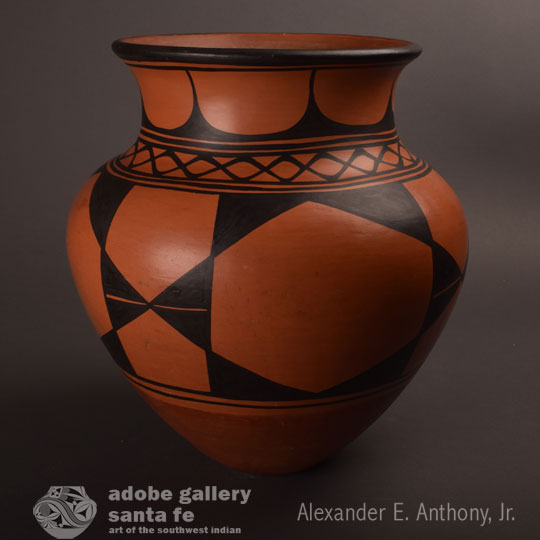 + Add to my watchlist Forward to Friend
This Black-on-red Santo Domingo Pueblo pottery jar by the Aguilar Sisters is a highlight of the group, and not just because of its gorgeous atypical color. Its shape, too, is amazing—a classic Aguilar shape with a few inches of height added. It's impressive; nearly symmetrical, with just enough slight variation to remind the viewer that despite its deceptively modern appearance, this is a handmade piece of pueblo pottery.
This jar is unusual in that the body was covered in red slip rather than the usual cream slip. According to Chapman: "From comparatively early times, a small quantity of red ware seems to have been made by a few of the Santo Domingo potters. Not more than ten specimens have been found during the course of this study. Most of these give evidence of considerable age, though two in the collection of the Indian Arts Fund are known to have been made by one potter as late as 1920."
Chapman continues "The forms of these few known specimens of bowls and jars are identical with those of Black-on-cream ware. The red clay slip is apparently mixed with a small proportion of cream slip, for in all specimens the tone of the decorated zone is lighter than that of the red underbody." (p.152)
There is some disagreement as to the end of the careers of the Aguilar sisters. An unpublished text by Francis Harlow and Dwight Lanmon includes a handful of pieces by the Aguilar sisters, most of which are reported to date to 1910-1915. Chapman (p.152) states that two Black-and-red jars are known to have been made by one potter as late as 1920. He does not state the name of the potter, however. Douglas states that the two sisters passed away around 1915. Batkin (p.99) states that "evidence suggests that Felipita Garcia continued her style as late as 1920 to 1930; she also made traditional polychrome and Black-on-red vessels, all of them beautifully executed." It is not uncommon to find conflicting historical reports regarding the pueblo peoples' birth and death dates.

Condition: excellent condition
Relative Links: Santo Domingo Pueblo, pottery, Felipita Aguilar Garcia, Asunción Aguilar Caté

Click here to view the list of reference materials used for this writeup
Felipita Aguilar Garcia and Asuncion Aguilar Caté, Santo Domingo Pueblo Potters
---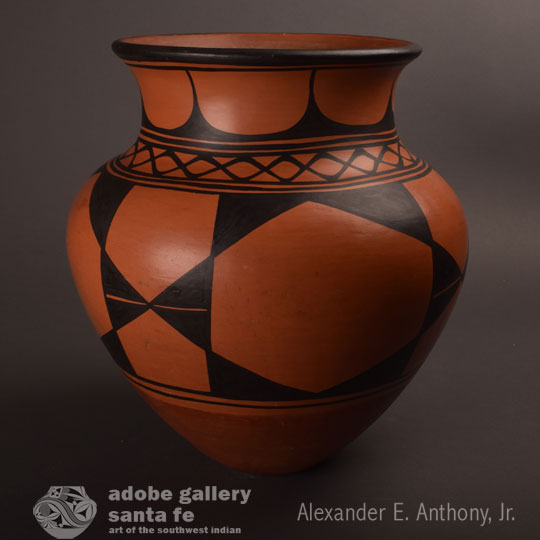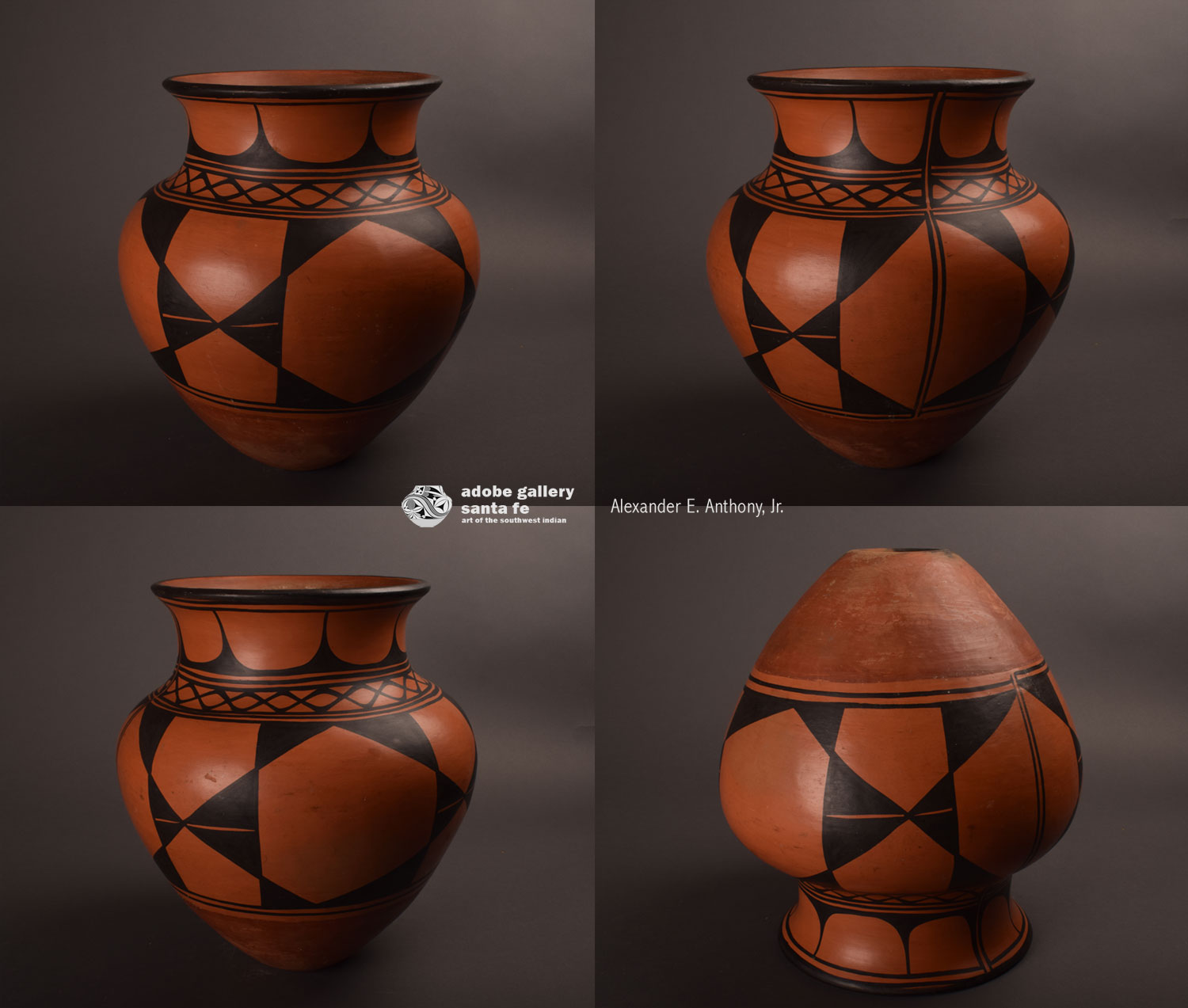 Click on image to view larger.
---