---
Hopi Large Basketry Plaque with 8 Ears of Corn by Frieda Youhoeoma [SOLD]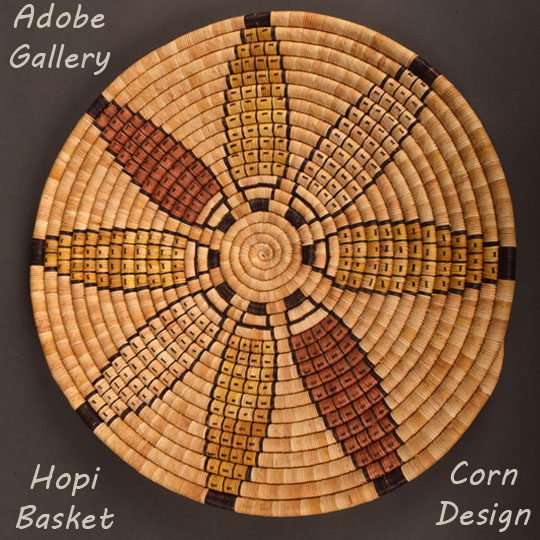 + Add to my watchlist Forward to Friend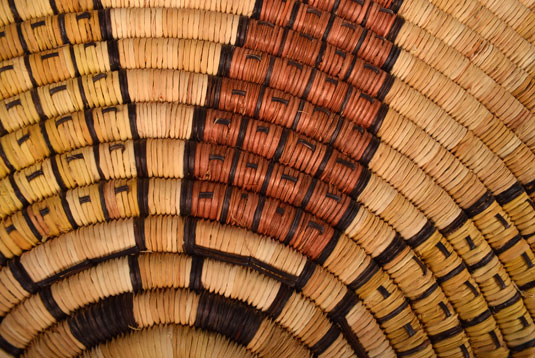 This plaque basket by Second Mesa weaver Frieda Youhoeoma features something that is of the utmost importance to the Hopi people: corn. A Fall 2019 article by Aaron Levin in the Smithsonian's American Indian Magazine provided an excellent description of the Hopi's relationship with corn: "Producing an ample corn crop is critical for the Hopi, for the plant provides far more than mere subsistence. All of Hopi life revolves around the corn planted each spring. The Hopi people's origin stories say that long ago, the Guardian Spirit, Màasaw, offered the clans several gifts: wood that would become the Hopi planting stick, a bag of corn kernels, a gourd of water and a small ear of blue corn. At Màasaw's direction, the clans began an extended migration. They learned on the way to cultivate corn and a better life, one that embraced unity, selflessness, cooperation, harmony with nature and stewardship of the land. Perhaps reflecting those early wanderings, the many colors bred into Hopi corn are still associated with directions across the landscape; yellow suggests northward; white, eastward; red, southward; and blue, westward; whereas purple signifies above and sweet corn, below. Corn is present at every stage of life, every ceremony, every key moment in the cycle of the seasons, says (Stewart B.) Koyiyumptewa, now the program manager at the Hopi Culture Preservation Office in Kykotsmovi Village, Arizona. 'Corn is the first thing they feed you when you're born, and cornmeal sends you off to the spiritual world when you pass on.'"

The Hopi grow corn in large quantities without irrigation, planting in earth that is moist from winter snowfalls and then relying on summer rain for nourishment. Their crops are planted in multiple locations, ensuring that something will survive the challenging conditions. Corn is essential to their physical survival, of course, but the passage above reminds us that its spiritual purposes are just as significant. It makes sense that it would appear so frequently in their baskets, weavings, paintings and pottery. This large basket features eight ears of corn in red, white, and yellow, with imbrication on each kernel of corn. It is a fine expression of something that is both a resource and a symbol to the Hopi. It is equipped with a loop for hanging.

This basket is featured on page 85 of Gregory Schaaf's American Indian Baskets 1: 1,500 Artist Biographies (see below).
Frieda Youhoeoma (1939-2011) was a weaver from the Hopi village Shipaulovi. Youhoeoma, a Sun Forehead Clan member, became active in the 1950s and continued working until her passing in 2001. She learned the art of basketry from her mother, Alta Seyesnema, and passed her knowledge along to her own daughters. Clouds, corn, and Katsinam were some of her preferred designs.
Frieda is included in Helga Teiwes' book Hopi Basket Weaving: Artistry in Natural Fibers, pages 110-112.
Condition: excellent condition
Provenance: this Hopi Large Basketry Plaque with 8 Ears of Corn by Frieda Youhoeoma is from the large collection of Allan Nelson, an avid Native American art collector.
References:
- "The Heart of the Hopi" by Aaron Levin, American Indian, Magazine of Smithsonian's National Museum of the American Indian, Fall 2019
- American Indian Baskets 1: 1,500 Artist Biographies by Gregory Schaaf
Relative Links: Hopi Pueblo, Native American Baskets, Frieda Youhoeoma, Hopi Second Mesa Basket Maker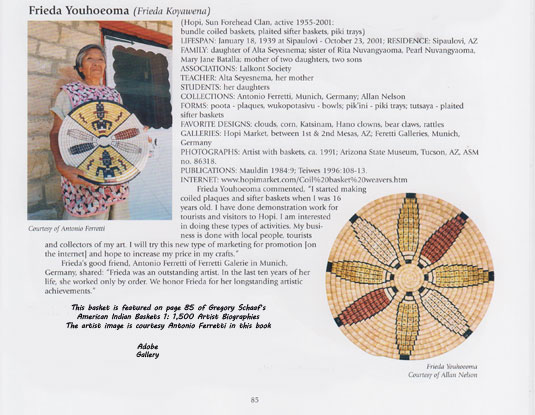 Frieda Youhoeoma, Hopi Second Mesa Basket Maker
---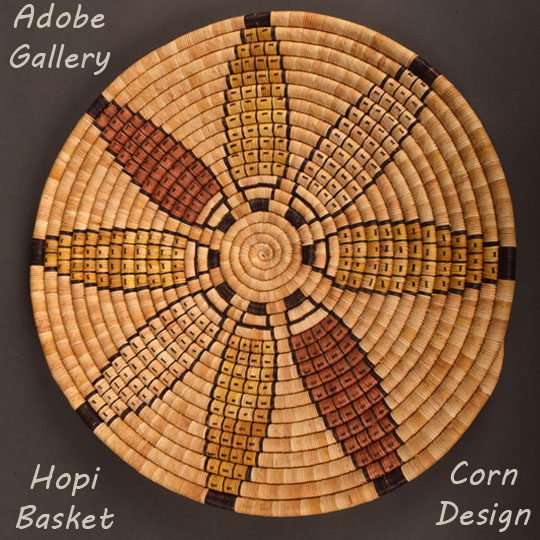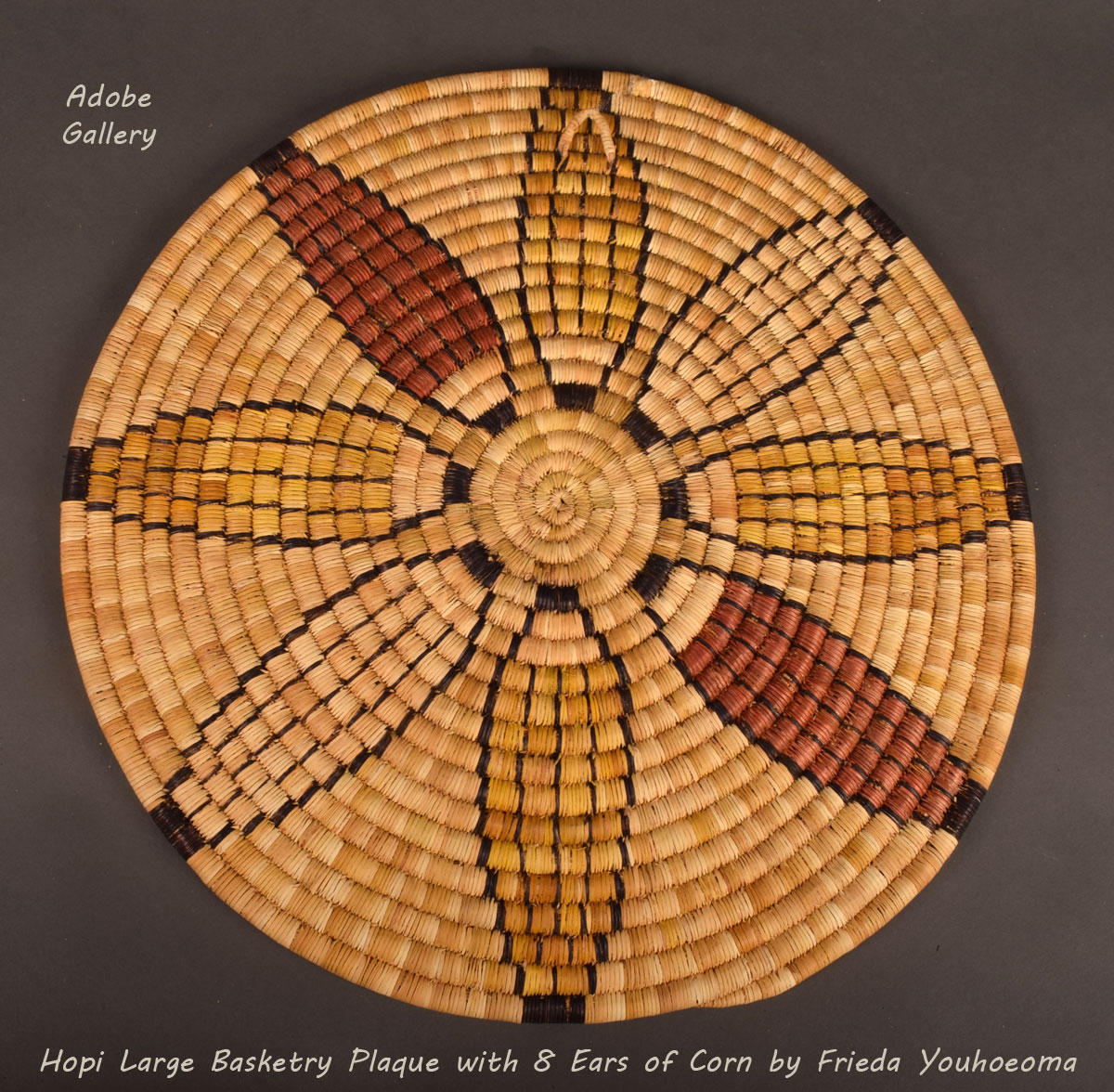 Click on image to view larger.
---
Adobe Gallery Recommended Reading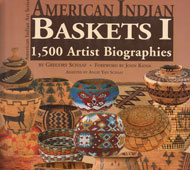 American Indian Baskets I: 1,500 Artist Biographies
by Gregory and Angie Schaaf