---
Navajo (Diné) Folk Art Carving "Blessing Way—Hózhó" [SOLD]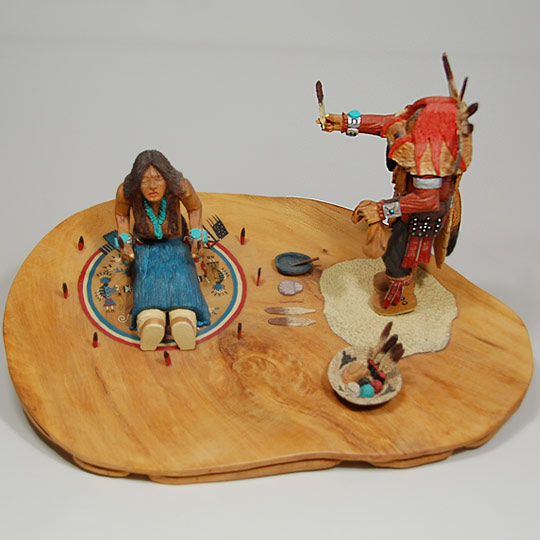 + Add to my watchlist Forward to Friend
After completing the equivalent of middle school, Jacquez (pronounced Hackus) went to work in construction but an accident ended that career after just a short while. Jacquez recalled that he had been painting on and off his whole life so he began to paint more seriously. His paintings related to Navajo ceremonial sand paintings. A terrible automobile accident, at the hands of a drunk driver near the Nageezi Trading Post, took the lives of Jacques's mother, two sisters, son, and daughter. This horrendous event changed his life and affected his art.
The artist somewhat blamed himself for this loss because he had broken Navajo taboo by painting sacred ceremonial imagery sand paintings. But, after giving it considerable thought, he decided he had nothing more to lose by continuing this art form so he began to carve such scenes in three-dimensional form, accurately depicting the Yeis and ceremonies.
This diorama entitled Blessing Way-Hózhó depicts a healing ceremony. I believe the Blessing Way is a 9-day ceremony. The female is sitting on a Navajo medicine man-created healing sand paining. The Grandfather Yei is ministering to her. It is my understanding that as the patient sits on the sand painting; the sickness leaves her and is absorbed by the sandpainting which then is destroyed before sunset.
The Navajo ceremonial basket on the floor contains sands of various colors that are used in creating the sandpainting. There are also eagle feathers and a medicine bag in the basket. A stone metate for preparation of medicines sits on the floor, next to which are a sea shell, a stick, and a pair of eagle feathers. The medicine man is holding a feather in his right hand and a medicine bag in his left. Surrounding the patient is a series of feathers standing upright in the soil.
The medicine man is dressed in full traditional clothing. He has a fox tail attached to his belt on the rear and he wears a deer skin draped over his lower body. His jewelry consists of a concha belt, bracelet, turquoise rings and a Ketoh on his left wrist. A complete fox skin is wrapped around his neck and a leather medicine bag hangs on his left hip. He is wearing leather moccasins with woven sashes wrapped around their tops.
The patient wears a full skirt and traditional moccasins with leg wraps. She is bare on top. In her hands are eagle feathers and on her wrists are elaborate turquoise and silver bracelets, rings on fingers, a concha belt around her waist and a beautiful nugget turquoise necklace with jaclas around her neck. Her long hair hangs down in front and covers her breasts.
The diorama is signed on underside Blessing Way-Hózhó © L. Jacquez '06.
Condition: original condition
Provenance: from the collection of Jan and Chuck Rosenak. Published in Navajo Folk Art by Chuck and Jan Rosenak. 1994, page 61.
Recommended Reading: Navajo Folk Art by Chuck and Jan Rosenak
Lawrence Jacquez (1965- )
Category: Other Items
Origin: Diné - Navajo Nation
Medium: wood, pigments
Size: 14-1/2" x 10" base; 8-3/4" tall
Item # C3347F

SOLD
---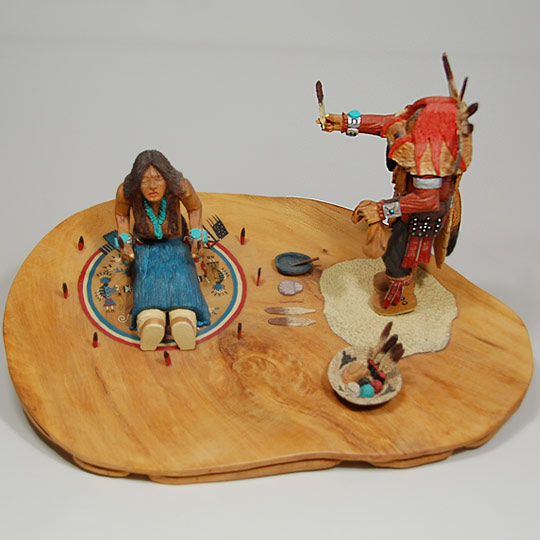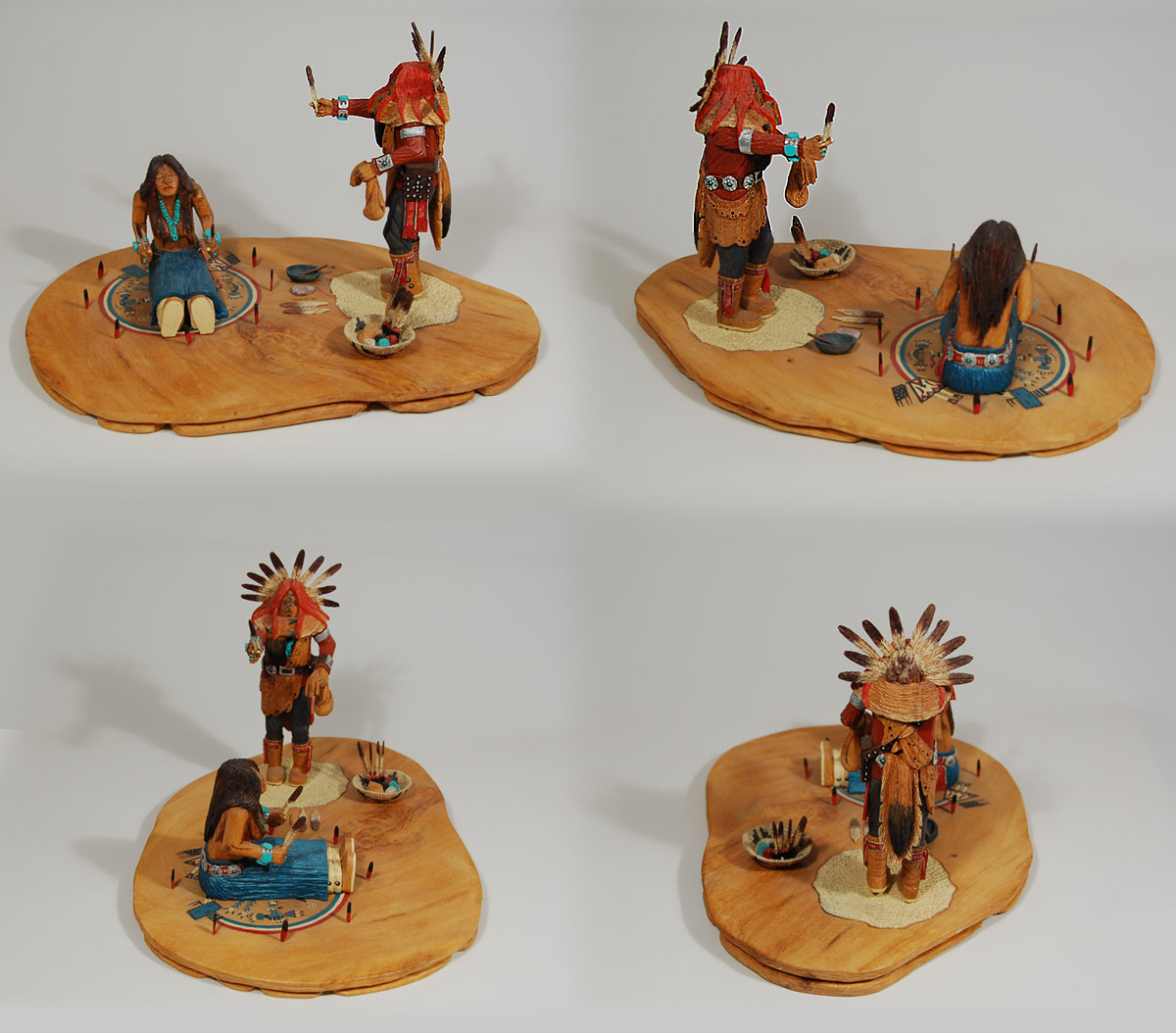 Click on image to view larger.
---
Adobe Gallery Recommended Reading