AL Qöyawayma, Hopi Pueblo Artist
---
+ Add Artist to My Preferences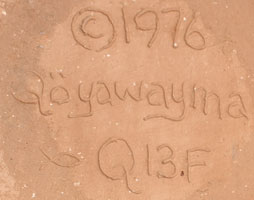 Hopi Pueblo artist AL Qöyawayma occupies a unique spot among artists today. He produces pottery and bronze work that is equal in quality and spiritual content to that of the most traditional artist living a monastic, aboriginal life.
Alfred H. Qöyawayma (1938- ) is a well-educated modern citizen with a dual career as an aeronautical engineer who designs aircraft guidance systems.
Although his pottery pieces at first glance appear thoroughly modern, they are re-enactments from his ancestral Hopi people from the village of Sikyatki. If any pottery can be called sensuous, it is the pottery of this artisan. He uses the traditional coil method to build the pottery after processing clay by hand. He then pulls the vessel walls vertically, a technique he believes was used by potters in ancient Sikyatki. Like those ancestors, he polishes with stones.
TAGS: Western Sculpture: Bronze, Contemporary Pottery, Hopi Pueblo, Elizabeth White - Polingaysi