Allan Houser, Haozous, Chiricahua Apache Artist
---
+ Add Artist to My Preferences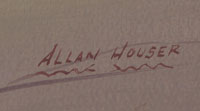 Chiricahua Apache artist Allan Houser was a modernist as well as a traditionalist and was certainly one of the most famous Native American artists of the 20th century. He was indisputably one of America's foremost artists in mediums of sculpture, drawing, paintings, wood carving or whatever medium he chose to try.
Allan Houser (1914-1994) Haozous is most known for his sculptures because that is the medium he worked in in the latter part of his career when he was best known as the artist he was. His paintings are rarer than his sculptures and are highly desired by collectors of Native art.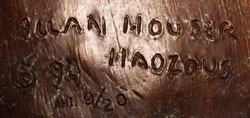 When his reputation was firmly established his paintings were featured in a celebration of Native art at the Kennedy Center in Washington DC in 1981 and included in a Smithsonian exhibit that traveled to South America. That same year, he exhibited in the legendary Salon d'Automne in Paris, France.
TAGS: Chiricahua Apache, sculpture, drawing, paintings, wood carving, Native art