Anthony Chee Emerson (1963- )
---
+ Add Artist to My Preferences

Anthony Chee Emerson, Diné (Navajo), was born in 1963, in the Four Corners area of New Mexico. He attended school and graduated from Rehoboth High School, 1980, attended Dordt College, Sioux Center, IA and University Of New Mexico, Albuquerque, NM. He graduated with Associates of Arts Degree from San Juan College in 2004.
Emerson began his professional art career in 1982, and participated in the Santa Fe Indian Market and Gallup Intertribal Ceremonials that year, and has continued every year since.
He taught Art at the Navajo Academy, located in Farmington, NM, in 1985 and 1986.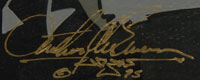 In 1999 he and his wife opened Emerson Gallery, in Farmington, NM, featuring his paintings, Betty Begay Emerson folk art and works by friends of his.
Anthony Chee Emerson illustrated four Children's Books "How the Rattlesnake Got its Rattle," "Songs of Shiprock Fair," "First Fire" and "My Horse." In 2002, he was commissioned to illustrate for Johns Hopkins University Native American Health Studies for Teenage Depression Series.
---
Text Source: Dr. Peter Iverson, regent Professor of History at Arizona State University, features Emerson in "Dine a History of the Navajo."
Image Source of Anthony Chee Emerson: Unknown
** If you discover credit omissions or have additional information to add, please let us know at Marketing adobegallery.com.