Tony Da, San Ildefonso Pueblo Painter and Potter
---
+ Add Artist to My Preferences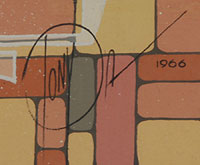 Tony Da (1940-2008) Thun-Phoe-She (Sun Dew) was an innovative and influential Native American artist. Da descended from a most talented family of artists, both potters and painters, at San Ildefonso Pueblo. His grandparents were Maria and Julian Martinez. This married potter and painter duo were ahead of their time when, in the early 1900s, they broke away from the traditional polychrome wares and created the now-famous black-on-black pottery. Following Julian's death in 1943, their son Popovi Da began assisting Maria, and by the 1950s he began infusing his own ideas into pottery making. Popovi began painting magnificent polychrome pieces reminiscent of his father's early works. Then he began to experiment with inlaying turquoise into pottery. It was this technique that Popovi's son Tony picked up on and eventually perfected. With such a talented family, Tony was destined to succeed as an artist.
In his early student years, Da experimented with jewelry making and painting. Following a stint in the U.S. Navy, he returned to San Ildefonso in 1964. He was fascinated with what Maria and Popovi were doing, so he apprenticed himself to his grandmother.

Tony drew easily but selectively on his experience with both painting and jewelry. Early on, he worked in the two-tone black-and-sienna style, which Popovi Da introduced. He moved rapidly into the setting of turquoise into some of his wares, such as lidded vessels, bear fetishes, and elaborate turtle figurines. Indeed, Tony was the first pueblo potter to make extensive use of turquoise inlay in pottery. He next produced magical combinations of clay and wrought silver, as well as pottery inlaid with shell beads, or "heishe". Tony's work is immediately recognizable, and viewers have compared his more complex pieces to such objects as Middle Eastern jewelry boxes and Byzantine reliquaries.
Da went on to become enormously successful, and his success was justified by his talent and vision. Today, his pottery pieces rank among the most valuable Native American artworks.
The Martinez-Da family was fraught with tragedy, especially on the male side. Julian Martinez died prematurely in 1943, at the age of 46 years. He was at the peak of his career. Popovi Da, likewise, died early, in 1971, at the youthful age of 48 years. Tony's career ended abruptly on Friday, April 15, 1982*, at the age of about 42 years, as the result of an off-road motorcycle accident that precluded his return to pottery making, though he did continue painting. With the wonderful artistic creation left to us by these remarkable artists, one must wonder what they would have gone on to do had they been able to create for another ten or twenty years.
Tony Da passed away peacefully on the 12th of February 2008 at 67 years of age.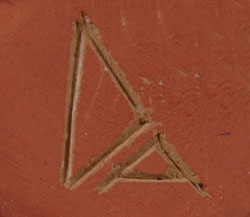 References:
"Tony Da" by Ron McCoy, in Art of Clay, Timeless Pottery of the Southwest, edited by Lee M. Cohen. Clear Light Publishers, Santa Fe. 1993. Permission granted by Phil Cohen.
*The Life and Art of Tony Da by Charles King and Richard Spivey
TAGS: San Ildefonso Pueblo, Popovi Da, Maria, Julian Martinez, pottery, Maria and Julian, utilitarian pottery, Popovi Da began assisting Maria, painting, jewelry, fetishes, jewelry boxes, prehistoric Mimbres culture, ceramics