Art Cody Haungooah, Santa Clara Pueblo Potter
---
+ Add Artist to My Preferences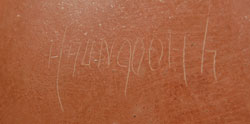 Santa Clara Pueblo artist Art Cody Haungooah is well known for his contemporary pottery creations.
Haungooah was the grandson of the famous Kiowa medicine man and scout James Haungooah, also known as Silverhorn (1861-1941). The first Haungooah became famous in the 19th century for his fantastic ledger drawings of life on the Southern Plains. The Haungooah name means "sunlight reflecting off a buffalo horn" in the Kiowa language.
The second Haungooah, Art Cody (1943-1985) Haungooah, married Martha Suazo from Santa Clara Pueblo in 1972. She was a potter and encouraged him to decorate them for her. He became an outstanding decorator of miniature pottery and was one of the early artists to perfect the sgraffito style of carving, along with Joseph Lonewolf and Tony Da.
In 1979, Pierre Cardin recognized him and his wife, Martha, for their artistic excellence. The famous French designer organized a European tour, which showcased their work.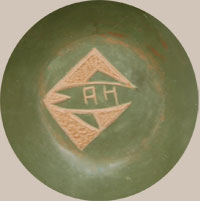 When Martha died (date unknown), Art Cody continued making pottery alone. He then met with tragedy in a head-on automobile collision in 1985. Their awards are documented for Indian Markets in 1978, 1979, and 1980*.
Now Dean Haungooah continues in his parent's style of tightly incised pottery.
NOTE: Most publications spell this artist's name with double o's, however some examples we've seen show that Cody sometimes signed his pottery with a single o, i.e. Haungoah.
*Reference Source: Pueblo Indian Pottery: 750 Artist Biographies, C. 1800-Present, With Value/Price Guide, Featuring over 20 Years of Auction Records (American Indian Art Series, 1) by Gregory and Angie Schaaf.
** If you discover credit omissions or have additional information to add, please let us know at Marketing adobegallery.com.
Relative Links: Dean Haungooah, Santa Clara Pueblo, Joseph Lonewolf, Tony Da, Contemporary Southwest Indian Pottery