Beatien Yazz, Navajo Nation Painter
---
+ Add Artist to My Preferences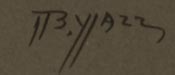 Beatien Yazz is a painter from the Navajo Nation. Alongside his classmates at the Santa Fe Indian School, he contributed to the proliferation of a painting style that is highly sought after by collectors. He always included subject matter relating to his culture and religion, which is important to remember and teach to the next generation. His watercolor paintings provide important cultural records.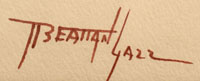 Beatien Yazz (*1928- ) Little No Shirt - Jimmy Toddy was born on the Navajo Reservation. Yazz showed promise as an artist very early. At an early age, Yazz met the Lippencotts, traders at the Wide Ruins Trading Post and they made available to him scraps of paper and other equipment so that he might practice in color. He was also the subject of Alberta Hannum's books Spin a Silver Dollar and Paint the Wind and his paintings were used as illustrations.
He served in the U.S. Marines in World War II and was a member of the famed Navajo Code Talkers. Following the war, he returned to the reservation and began to paint in earnest. He specialized in subjects familiar to him in his daily life on the reservation. He has been eminently popular with collectors since the 1950s.
Yazz is only one of his names. There is his Navajo name, which we do not know. He has signed his paintings with many variations of Bea Etin Yazz: Beatien Yazz, Beatian Yazz, Beatian Yazzia, Beatin Yazz, and B. Yazz. Finally, there is the name that most people use, Jimmy Toddy.
Source: Yazz: Navajo Painter by J.J. Brody, Sallie R. Wagner, and Beatien Yazz
TAGS: Navajo Reservation, Spin a Silver Dollar, Paint the Wind, paintings, Yazz: Navajo Painter
*We previously listed Yazz as having passed away in 2012. Recently, we spoke with a family member who confirmed that he is "alive and well".