Brian Honyouti, Hopi Pueblo Carver
---
+ Add Artist to My Preferences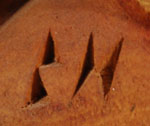 Hopi Pueblo artist Brian Honyouti had started carving katsina dolls in the 1960s after graduating from high school. He helped his dad paint his dolls and learned to carve his own at that time. According to Helga Teiwes, he was the first carver to use wood preservers and wood sealers as an undercoat for the carvings. She said he was also the first to substitute wood preserver for paint and to use oil paints in lieu of acrylic paints. These innovations provided a mellow tone to his carvings rather than the shiny gloss of acrylics.
When Adobe Gallery was actively purchasing katsina dolls from the Hopi Pueblo Honyouti brothers (Brian, Lauren and Ronald) in the 1980s and 1990s, Brian Honyouti (1947 - 2016) was seriously involved in running a school for the children of his village of Bacavi. He founded the school, was the teacher, and was the principal. He was a strong advocate of education. He, himself, had obtained a bachelor's degree in anthropology from the University of Arizona in 1971.
---
June 2016 update:
We received a call from Ronald Honyouti informing us that his brother Brian Honyouti died on 15 June 2016. Brian was a model Hopi Indian, helping educate others in a school he founded and funded. I spoke with Brian a month ago. He was seeking information on some of the exhibits we had at the Albuquerque gallery in the 1970s and 1980s, featuring all the Honyouti brothers and their magnificent katsina doll carvings. A book is being written on his life and he was searching for information requested by the author. I sent him all the files we had on the Honyouti brothers regarding all the exhibits we had for them. I enjoyed looking at the old information as I prepared it to send to him. He called and was so enthusiastic when he received the files and said he enjoyed reliving those experiences through gallery invitations and photos of the guys and their carvings. It is hard to accept that now he is gone. He did not live to see the book, and I am sorry that he missed it. I think he would have genuinely enjoyed revisiting those days of his life through the book.
Relative Links: Hopi Pueblo, Lauren Honyouti, Ronald Honyouti, katsina dolls