Carl Von Hassler (1887-1969)
---
+ Add Artist to My Preferences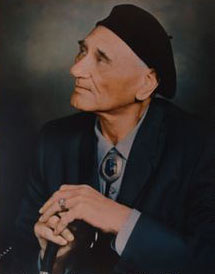 Carl Von Hassler (1887-1969) who moved to Albuquerque, New Mexico in the early 1920s, was known as the "Dean of the Albuquerque Art Colony." Born in Bremen, Germany, Von Hassler attended the Dusseldorf Art Academy. When he came to the United States, he lived for a while in Greenwich Village in New York and was a member of the famed painters who called themselves the "Greenwich Ash Can Group."
In his early years in Albuquerque, Von Hassler's studio was in the original Casa de Armijo (now La Placita Restaurant) in Old Town. He was best known for his traditional realistic landscapes of New Mexico and his Indian portraits. He spent almost half of his 47 years here developing a new painting technique that caused a stir in art circles. "I invented it myself," the artist said. "It is known to no one else."
His paintings had an almost ceramic quality with colors that do not fade. He baked the paintings at up to 600 degrees. He also developed what he described as an "atomic substance" to paint on to withstand the heat. It made his paintings fire and heat resistant.

His art works are now collector's items and many prominent Albuquerqueans own his paintings. One of his first Albuquerque paintings was the Indian motif mural in the Franciscan Hotel in 1924 (now demolished). He did the Kimo Theater paintings in 1927 (now restored). He also painted the viga designs at the old airport building in 1937 (still standing). One of his murals is on a wall at the Mineshaft Tavern in Madrid, NM. Some of his murals decorate homes in the Country Club area of Albuquerque.
He taught privately, and among his better known former pupils are Sam Smith, Ben Turner, Walter Bambrook, Novella King, and Betty Sabo.
Von Hassler was born March 18, 1887 of a Dutch father and a French mother on a train in Germany. He passed away in Albuquerque at the age of 83 on November 30, 1969.
—Alexander E. Anthony, Jr.
Image Source of Carl Von Hassler: courtesy of Esther E. Berrenberg Estate (do not copy).
** If you discover credit omissions or have additional information to add, please let us know at Marketing@adobegallery.com.
Relative Links: Western Paintings, Albuquerque, New Mexico, Sam Smith, Ben Turner, Walter Bambrook, Novella King, Betty Sabo