Carmelita and Carlos Dunlap
---
+ Add Artist to My Preferences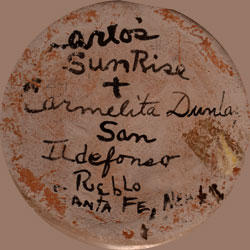 The specialty of artists Carmelita and Carlos Dunlap was re-creating the pre-1900 Polychrome pottery that San Ildefonso Pueblo was so famous for before the discovery of Black-on-black. Very few potters at San Ildefonso continued making Polychrome wares following the introduction of Black-on-black pottery by Maria and Julian in the 1920s. Blue Corn and Carmelita Dunlap were exceptions.
Carmelita Dunlap (1925-1999) and Carlos Dunlap (1958-1981) both continued making polychrome wares throughout their careers. As a comparison, Popovi Da and Gilbert Atencio on occasion made some but not very frequently.
The mother and son team of Carmelita and Carlos Dunlap worked together for a very few years before his untimely death.
Reference: Pueblo Indian Pottery: 750 Artist Biographies by Gregory Schaaf.
Relative Links: Carmelita Dunlap, Southwest Indian Pottery, Romando Vigil, San Ildefonso Pueblo, Desideria Montoya, Maria Martinez, Blue Corn, Carlos Dunlap, Popovi Da, Gilbert Atencio