David Chethlahe Paladin, Navajo Painter
---
+ Add Artist to My Preferences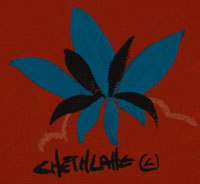 Navajo artist David Paladin was educated by Dorothy Dunn at the Santa Fe Indian School. Though he occasionally resisted Dunn's instruction, he learned the basic fundamentals of painting and was encouraged to celebrate his cultural heritage. Paladin was mixed-race- his mother Navajo, his father a white missionary- at a time when interracial relationships were uncommon and frowned upon by society. Paladin struggled with his mixed-race identity and fell into alcoholism at a young age, eventually leaving the reservation and making his way to California. He lied about his age and worked on a merchant ship, where he spent much of his free time drawing.
David Chethlahe Paladin [1926-1984] was born on the Navajo Reservation in 1926 at Canyon de Chelly, Arizona. While his style shifted and evolved drastically during his career, his themes remained simple and universal. He celebrated life and spirituality in his work, as many Native American artists do, though his perspective was informed by a uniquely challenging early life. His story seems mythological, and most certainly shaped his interest in using his art to celebrate creation, life, death, and rebirth.
After enlisting in the US Army- some say that he was all but forced to do so after lying about his age to board a Merchant Marine ship- Paladin found himself serving behind enemy lines during World War II. Like many Native Americans who served in World War II, he gathered information and relayed it back to US forces using his native language. He was ultimately captured, interrogated, and tortured. His life was ultimately spared by a young German soldier who he'd befriended years ago aboard the merchant ship on which he'd stowed away as a young man. When the Allies finally rescued Paladin and his fellow prisoners, they found him severely injured, traumatized, and speaking Russian. Some say that he was speaking Russian because, in his near-death state, he'd begun to energetically merge with and channel influential Russian painter Wassily Kandinsky.


Paladin's recovery was an arduous process that began at a VA hospital in Michigan and ended, symbolically at least, back where it all began- in the Little Colorado river at the Navajo Reservation where he'd grown up. The tribe's elders removed the leg braces that he'd worn during his stay at the VA hospital because of injuries sustained while being tortured. They tied a rope around his waist and sent him into the river, telling him, "Call back your spirit or die". Paladin recounted this process of cleansing and rebirth as the single most difficult moment of a tremendously challenging and traumatic life.

Paladin devoted his life to creating art and teaching young artists. He became a shaman, serving as a spiritual counselor to other recovering addicts. His hard-won experience gave him a truly unique artistic vision, one that explored universal themes of life and spirituality while always remaining true to his Native American roots.
"Paladin gave credit to the influence of Mark Tobey, Morris Graves, and Marc Chagall for influencing him to abandon his early traditional style of painting and embark on a more contemporary style. While still a student, Paladin met Marc Chagall at an exhibition of the artist's work at the Chicago Art Institute. Chagall encouraged him to use his Navajo heritage but not to illustrate anything; instead he should listen to the story, dream it, and paint it. The influence of Mark Tobey and Morris Graves, whom he met in Portland, Oregon, led him to experiment with texture, mixing clay, sand, and mud, and adding them to his paintings." Arizona Arts and Lifestyle, spring 1980.
Some honors bestowed on him include: Newsweek, cited as nation's "leading Navajo modern artist," 1975; Carnegie Medal for Achievement in the Arts; Cambridge University Distinguished Service to the Arts and Education Commendation, 1970; International Biographical Center, London, England, Distinguished Service in Education and the Arts, 1976; and Distinguished Achievement Award, 1976; Italian Academy of Art, Gold Medal, 1981; Santa Fean Magazine, Artist of the Year, 1981.
TAGS: Dorothy Dunn, Navajo Reservation, Native American Painting