Dora Tse-Pé, San Ildefonso Pueblo Potter
---
+ Add Artist to My Preferences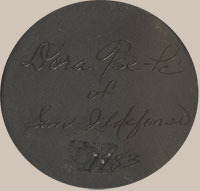 Award winning San Ildefonso Pueblo artist Dora Tse-Péw was recognized as a Master Potter and was bestowed the title Master of Indian Market.
Dora Tse-Pé (1939-2022) was a perfectionist. She achieved a beautifully smooth burnish and an exceptional black firing to her pottery. Along with Popovi Da and Tony Da, Dora experimented with and achieved success in two-tone firings, resulting in sienna accents to the blackware. Dora died on 15 August 2022.
Dora was born at Zia Pueblo, the daughter of Candelaria Gachupin and granddaughter of Rosalie Toribio, both of whom "taught her the sacred and spiritual significance of the clay, of Mother Earth, Father Sun, and of the life-giving water. Her mother and grandmother made sure she understood the importance of these forces in creating pottery. Like Rosalie Aguilar and Rose Gonzales, a generation before, Dora married into San Ildefonso. In 1961, she married Tse-Pé, a fine potter. His mother was Rose Gonzales, who also had married into San Ildefonso, but from San Juan Pueblo." [Schaaf 2000.]

---
Reference: Pueblo Indian Pottery: 750 Artist Biographies by Gregory Schaaf.
TAGS: Popovi Da, Tony Da, Southwest Indian Pottery, San Ildefonso Pueblo, Contemporary, Zia Pueblo