Duane Dishta, Zuni Pueblo Artist
---
+ Add Artist to My Preferences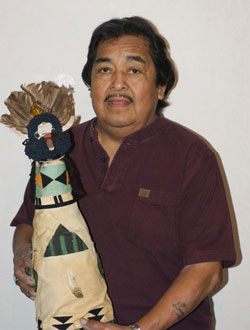 Zuni Pueblo artist Duane Dishta came into the world with design and creativity in his blood. His father Frank Dishta was already a famous silversmith, the creator of a new type of cluster jewelry. Frank combined cluster and channel designs, both staples of the distinctive Zuni silverwork, into a new form that is still known as the Dishta style, immediately recognizable to dealers and collectors alike. Instead of domed stones in thin bezel, his style used heavier settings with the turquoise or other stone ground off flat and then polished.
Frank's son Virgil, Duane's older half-brother, son of Pauline Tsethlakai, carried on the tradition which passed to his sons Vincent and Virgil Jr. and Virgil's niece Pauline Dishta. The style spread to other family members because of its demand. These days other Zunis have copied the style, a testament to its continuing popularity.
Though Duane Dishta (1946-2011) learned jewelry making at an early age, for some reason he was more interested in painting. Work from his teenage years still surviving in the village shows the influence of the so-called "Indian" style of the Dorothy Dunn studio; flat, two- dimensional figures in tempera, usually featuring katsina figures. One family still has a fabric collage of a Shalako figure that Duane created in his early teens. He recalls he got the idea from another famous jeweler, Andrew Dewa, known for his carved bas-relief mosaic Katsina figures in silver and stone.
Duane's mother was Elizabeth Malani, who was half Hopi. His first wife was Evngelita Edaaki, with whom he had two daughters. His early marriage kept him out of Vietnam. When he was drafted the Kennedy law protected him. For many years he has been married to Margie Sheeka.
Duane dropped out of school in the ninth grade and never went back. He learned his art technique on his own. A history teacher at the Zuni high school contacted Duane about doing small watercolors of all the katsinas. Apparently Don Moore intended to update the book on Zuni Katsinas done by Ruth Bunzel in 1929 in what would be the forty-seventh—and last—volume of the annual Bureau of Ethnology reports. The katsina paintings in that book were only reproduced in black and white until Rio Grande Press reprinted it in 1984.
Duane remembers that Moore was talking to various religious leaders about the changes in the pantheon of Katsinas over the years and apparently they were cooperating with him. Before the book was finished Mr. Moore passed away and his widow moved to Las Cruces. At a later date she approached various institutions to sell the drawings.
Eventually a private collector purchased the small paintings. At some point a new, larger sized set of drawings were commissioned, but Dishta can't remember who they were done for.
Both sets of drawings eventually ended up in the Southwest Museum in Los Angeles and became the basis for Barton Wright's book Kachinas of the Zuni, published by Northland Press in 1985, twenty years after the teenaged Zuni had done the original images. Though he was paid for the original drawings, Duane maintains he didn't know anything about the book and was given ten copies as compensation for his contribution.
At the same time Duane Dishta began to paint, he was also carving his first Katsina dolls—weehewe in Zuni—and three very large dolls Duane carved for Don Moore recently surfaced in Virginia. Dishta says he created the unusually large figures "just because I wanted to". In his late teens Dishta carved a number of dolls which he sold through traders in Gallup.
There is a widely circulated story that he was banished from the village of Zuni because of his carving of sacred Kokko—the Zuni word for Katsina. Both he and his family maintain that the story is ridiculous and untrue. Though many Zunis still disapprove of the sale of the dolls, nobody seems to have been punished or unduly criticized for their carvings—or paintings.
Aside from some firefighting in the late Sixties, Dishta has always made his living as an artist. Though the Wright book carried his work to a larger audience, Duane had been winning awards for many years. He says most of the prize winners were entered into competition by traders or the eventual buyers. He has won ribbons at Gallup Ceremonial, the Heard Museum show, Scottsdale, Sedona and elsewhere. These days his wife Margie is his agent and she takes care of the business end of things. A number of prints have been published from his paintings and they are proudly displayed in homes all over the extended village of Zuni. Many houses have several on the walls.
Though his original works were in tempera, he moved on to acrylic paints. Probably remembering some early creations, he started experimenting with raised surfaces, a distinctive element in his work. Using wood for vigas and modeling paste applied with a palette knife for texture, Duane builds up background buildings as a setting for his Katsinas. Over the years his draftsmanship has become highly refined and his figures very realistic.
A few years ago Dishta told me that he hadn't carved dolls since his late teens or early twenties. That isn't technically true, as it turns out. He no longer carved dolls for sale, certainly not to non-Zunis, but he has created a number of complex, multi-figure alters ( called teshkwina after the sacred feathers) for Shalako houses in recent years. The creator cannot be paid in cash for this duty, but received gifts and special blessings.
Most of his early dolls are recognizable by their gangly limbs, long and skinny. Those first dolls he did for Don Moore are in the style of the time and look like dolls by carvers like the famous Ben Seciwa, who influence many artists. Weehewe of that period are dressed in felt, with colored felt appliqués for the decoration. Zuni dolls have always been known for their dressing and embellishment, much like the dancers they represent. Tiny necklaces, beads, rattles, and jewelry give Zuni dolls a distinctive look. Duane may be best remembered for his paintings, but he remains one of the most distinctive and talented doll carvers to come out of Zuni.
Article Source: Ernie Bulow, Photo Source: Ernie Bulow
** If you discover credit omissions or have additional information to add, please let us know at Marketing adobegallery.com.
Relative Links: Zuni Pueblo, Hopi, Ruth Bunzel, Kachina-Katsina Dolls