Eva Mirabal, Taos Pueblo Painter
---
+ Add Artist to My Preferences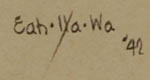 Award winning Taos Pueblo artist Eva Mirabal is known for her paintings. But her murals can be seen at the Santa Fe Indian School and the Veteran's Hospital Library in Albuquerque, New Mexico.
Eva Mirabal (1920-1968) Eah Ha Wa - Fast Growing Corn was born in Taos Pueblo, New Mexico, where she lived the majority of her life. She studied at the Santa Fe Indian School under Dorothy Dunn, at the University of Southern Illinois, Carbondale, and at the Taos Valley Art School, Taos, New Mexico.
Mirabal grew up in Taos, a village populated by well-traveled artists from Europe and other parts of the United States, as well as by the Indians from the Pueblo. Her parents, aunts and uncles all served as models for artists including Nicolai Fechin and Joseph Imhof, and they helped to build artists' studios. Mirabal's father, Beaded Shirt, was an especially popular model, and a wooden bust bearing his image could once be seen outside Mabel Dodge Luhan's house. Growing up surrounded by artists, Mirabal was inspired to draw and paint the Pueblo life she knew.
Mirabal first began attracting attention for her artwork while a teenager in the late 1930s. At age 19, in 1939, she was singled out for a Chicago gallery show: "She expresses in every drawing—in every line—a truly feminine tenderness and grace," one critic wrote in the Chicago Union Teacher magazine. "The clean colors, simplicity and good taste make this ageless art truly modern." She was also the only female included in the First National Exhibition of Indian Painting, held at the Philbrook Museum of Art in Tulsa, Oklahoma.
In 1943 Mirabal joined the war effort and served in the Woman's Corps where she drew the popular comic strip, "G. I. Gertie." After World War II and a job teaching at the Southern Illinois Normal University, she returned home to Taos where she studied at the Taos Valley Art School, run by painters Louis Ribak and Beatrice Mandelman. By the mid-1950s Mirabal was painting less frequently and had started a second career: motherhood. She gave birth to two sons, Jonathan and Christopher. She died in 1968 and was survived by her sons and her sister, Tonita Lucero, who continues to live in Taos Pueblo. Her son, Jonathan Warm Day, is currently at work on a biography of his mother, and Taos artist Ted Egri is cataloguing a small collection of her works for the Harwood Museum, Taos.
Mirabal won several awards for her painting from the Museum of New Mexico, Santa Fe, and Philbrook Museum of Art Annual Indian Art Exhibition. Mirabal's paintings are in many public collections, including: Thomas Gilcrease Institute of American History and Art, Tulsa, Oklahoma; National Museum of the American Indian, Smithsonian Institution, Washington, D.C.; Museum of New Mexico, Santa Fe, New Mexico; Millicent Rogers Museum, Taos, New Mexico; National Gallery of Art, Washington, D.C.; and Philbrook Museum of Art, Tulsa, Oklahoma.
REFERENCES:
- Silverman, Jason. "Drawing From Life: Spurred by the Taos Painters of the 1920s, Taos Pueblo's Eva Mirabal Painted Her Community as She Saw It - and Changed Southwest Art in the Process." Santa Fean (May 2002): 33-36.
- Lester, Patrick D. The Biographical Directory of Native American Painters. Tulsa, OK: SIR Publications, 1995.
- Snodgrass, Jeanne O. American Indian Painters: A Biographical Directory. York, NY: Museum of the American Indian, 1968.
- Brody, J. J. Pueblo Indian Painting: Tradition and Modernism in New Mexico, 1900-1930. Santa Fe, NM: School of American Research Press, 1997.
TAGS: Taos Pueblo, Joseph Imhof, Indian Painting