Evelyn Cheromiah (1928-2013)
---
+ Add Artist to My Preferences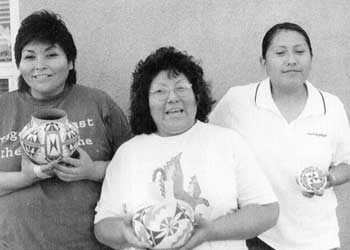 Pottery production declined at Laguna Pueblo in the early 20th century, largely because the men were being employed by the railroad, thereby providing cash income for the families. It was then no longer necessary for the women to make pottery for sale to tourists. They could, and did, purchase pottery from potters at Acoma Pueblo for use in their households.
By mid-20th century, both men and women were employed by the uranium mines on the pueblo, so there continued to be no need to produce pottery for sale or for their own use.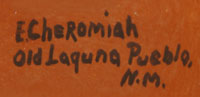 Evelyn Cheromiah was an exception. She was one of the few to continue making pottery. In the 1970s, she received a Federal Grant to teach pottery making to others at the pueblo, thus sparking a revival in pottery production at Laguna. Still, today, there are only a few potters there.
Evelyn continued, in all ways, to make pottery in the traditional manner. She collected her own clay, used potsherds for temper, used mineral and vegetal paints for the designs, and fired in the traditional outdoor firing. Evelyn passed this on to her daughters Lee Ann Cheromiah, Mary Cheromiah-Victorino and Wendy Cheromiah.
Reference:
Photo of (left to right) Mary Cheromiah-Victorino, Lee Ann Cheromiah and Brook Cheromiah - courtesy of Isa, Dick Diestler and Gregory Schaaf from this book: Southern Pueblo Pottery: 2,000 Artist Biographies by Gregory and Angie Schaaf
** If you discover credit omissions or have additional information to add, please let us know at Marketing adobegallery.com.