Felicita Eustace, Cochiti Pueblo Potter
---
+ Add Artist to My Preferences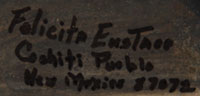 Cochiti Pueblo artist Felicita Eustace had specialized in making female storyteller figurines most of her career as a potter. Felicita reportedly made her first figurine in 1986, but it was not a storyteller figurine.
Felicita Herrera Eustace (1927-2016) was the daughter of Domingita and Nestor Herrera of Cochiti Pueblo, but she was raised by Laurencita Herrera, who was Seferina Ortiz's mother. It appears that the Herrera's were related, and it is often that relatives raise the child of another.
Felicita Eustace was the sister of Seferina Ortiz, and the wife of Ben Eustace, a potter and jeweler originally from Zuni Pueblo. They had seven children, including Christina Eustace and Jolene Eustace.
Notice: we were sorry to learn Felecita Eustace passed away on Thanksgiving Day, 2016.
Relative Links: Cochiti Pueblo, storyteller figurines, Seferina Ortiz, Ben Eustace, Zuni Pueblo, Christina Eustace, Jolene Eustace