Mary Frances Herrera (1935-1991)
---
+ Add Artist to My Preferences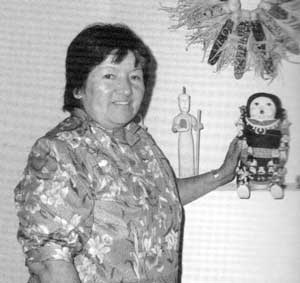 When we organized our first Storyteller exhibit at Adobe Gallery in Albuquerque in 1979, we identified only five potters making these figurines-Helen Cordero, Dorothy Trujillo, Frances Herrera, Seferina Ortiz, and Rita Lewis. We were not aware that a potter named Frances Herrera was making them too. When Barbara Babcock wrote the book The Pueblo Storyteller that was published in 1986, she also did not acknowledge such a storyteller maker by that name. Laurencita R. Herrera was the mother of Seferina Ortiz and Mary Frances Herrera along with seven other children. These two sisters are well known to Cochiti Pueblo pottery collectors.
In consultation with Bob Kapoun of The Rainbow Man I found out that Mary Frances Herrera was the same person as Frances Herrera. I was very well acquainted with Frances Herrera as I purchased miniature pottery figurines from her in the 1980s, but I was not aware that she made full-scale storytellers before then.
Photo courtesy of Gregory Schaaf.
Photo Reference: Southern Pueblo Pottery: 2,000 Artist Biographies by Gregory Schaaf.
** If you discover credit omissions or have additional information to add, please let us know at Marketing@adobegallery.com