Francis Livingston, Western Painter
---
+ Add Artist to My Preferences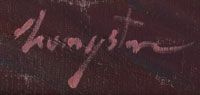 Artist Francis Livingston is known for his paintings of western landscapes and pueblo architecture and one of the West's premier living painters.
Born in Cortez, Colorado, Francis Livingston has been painting for 30 years. He is in the top ranks of American Illustrators, and his work has been widely published. His paintings have been exhibited in San Francisco, Los Angeles, and New York.
Livingston studied at the Rocky Mountain School of Art in Denver before moving to San Francisco in 1975 to attend the Academy of Art. He later taught there for 10 years. Influenced by Sargent and Whistler, he painted primarily in a monochromatic style until he began to study the work of the Bay Area Figurative Movement, including Richard Diebenkorn, Wayne Thiebaud and others. That led to experiments with color and a fondness for the California and French Impressionists.
For nearly twenty years, Francis Livingston has been painting the Santa Cruz boardwalk. "I'd always been intrigued by amusement parks, the rundown seediness, the intermingling of the past and present. When I went down to Santa Cruz for the first time in the 70's, it had that same quality as the old rides, the colors starting to fade. It fit in with the look I was after." Livingston has also done numerous portrayals of scenes from New York City and Coney Island, focusing on dramatic architecture and color.
Francis Livingston (1953- ) lived and worked in San Francisco and San Anselmo for 20 years until he and his family relocated to the Sun Valley, Idaho area, where he has developed a deeper appreciation for the west. He has now become one of the West's premier living painters. Francis Livingston's paintings of western landscapes and pueblo architecture capture the colors and light effects that are unique to the West. His deep understanding of history, the land and its people allow him to create imagery reminiscent of the Taos Founders, and other great western artists.
Francis Livingston was commissioned to create the book cover images for academy award winning author Michael Blake's Dances with Wolves and its sequel, The Holy Road. He was also selected by the Kentucky Derby in 2004 to create their annual poster.
Source: Askart
** If you discover credit omissions or have additional information to add, please let us know at Marketing adobegallery.com.