Gwen Sharon Setalla (b.1964-) Aȁs-kữ-Mana
---
+ Add Artist to My Preferences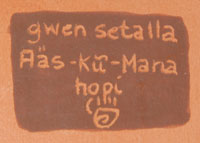 Gwen Sharon Setalla (b.1964-) Aȁs-kữ-Mana is a Hopi from the village of Mishongnovi on Second Mesa and is Bear Clan. Gwen Setalla is the Granddaughter of Roscoe Navasie, Agnes Navasie and Josephine Setalla; niece of Eunice Navasie and Perry Navasie; daughter of Justin and Pauline Setalla. They are of the Frog Woman and Feather Woman families. The family lived on a ranch not far from Keams Canyon and Gwen spent her early childhood there. She learned pottery making from her mother, starting as early as age 5 and began to take it seriously by age 21 - since 1985. She is known for her seed jars, plates, and canteens.
Gwen Setalla is a master potter. She makes some of the thinnest pottery at Hopi, along with Nona Naha. Her painting is very fine and polishing is smooth. Gwen's finished pots are exceptional in quality and design.

Reference: Hopi-Tewa Pottery: 500 Artist Biographies by Gregory Schaaf.