Jessie Garcia, Acoma Pueblo Pottery
---
+ Add Artist to My Preferences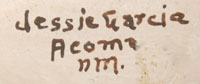 Acoma Pueblo artist Jessie Garcia was active ca 1930s-1990. She was known for traditional polychrome, Anasazi Revival black-on-white and corrugated ollas, jars, bowls, vases, wedding vases, figures, turkeys, owls, and storytellers. Jessie Garcia was the mother of Anita Lowden and Stella Shutiva and the mother-in-law of Sarah Garcia, all three of whom are recognized as outstanding potters.
Jessie C. Garcia (1910-1999) of the Sun Clan was listed as one of three Acoma Pueblo potters to have been particularly important contributing to the art of pottery making during the period on 1950 to 1970 by Rick Dillingham, the other two were Marie Z. Chino and Lucy M. Lewis.
References:
- Southern Pueblo Pottery: 2,000 Artist Biographies by Gregory Schaaf.
- Acoma & Laguna Pottery by Rick Dillingham.
Relative Links: Acoma Pueblo, Anita Lowden, Stella Shutiva, Sarah Garcia, pottery, Marie Z. Chino, Lucy M. Lewis