Joe Herrera Quintana, Cochiti Pueblo Jeweler
---
+ Add Artist to My Preferences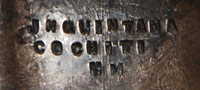 Cochiti Pueblo jewelry artist Joe Herrera Quintana was a very private person and, as a result, very little is known about his personal life, but he spent his adult life making jewelry for a number of stores and dealers. He worked for Gan's, Packard's and Simpson's stores in Santa Fe, and for Maisel's and The Covered Wagon in Old Town Albuquerque.
Finally, he worked for IrmaBailey at Irma's Indian Arts & Pawn in Albuquerque from 1966 until she closed the shop in 1971. He then returned to Cochiti Pueblo where he continued making jewelry and drums and continued supplying Irma Bailey with jewelry. After he passed away, Bailey had a collection of over 600 items of Quintana's jewelry and silver works. In 2004, the Museum of Indian Arts & Culture in Santa Fe exhibited a large amount of this collection.
Joe Quintana (1915-1991) was the famous silversmith father of the also famous contemporary Cochiti Pueblo silversmith Cipriano Quintana, also known as Cippy Crazy Horse.

His hallmarks in include the intials JHQ or JHQUINTANA COCHITI NM.
** If you discover credit omissions or have additional information to add, please let us know at Marketing@adobegallery.com.
Relative Links: Santa Fe, Albuquerque, Cochiti Pueblo, Cippy Crazy Horse, Southwest Indian Jewelry