John Martinez, San Ildefonso Pueblo Painter
---
+ Add Artist to My Preferences

Maria and Julian Martinez had four sons: Adam, born in 1903; John in 1915; Popovi Da in 1922; and Phillip in 1925. There is very little information published on John and Phillip except a few statements made by Maria, published in Spivey's book The Legacy of Maria Poveka Martinez.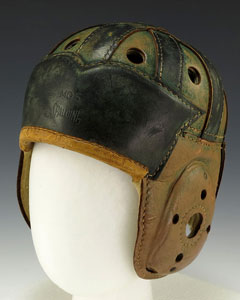 Maria stated: "John liked to study. John liked to look at books and study and read and go to school. He was the one that went to Stanford to school. And he was a *football player. And I said to him, 'That play I don't like. I see so many get hurt. Here they come bleeding.' And he said, 'No, Mother. I take care of myself.' That was John." Spivey
John Martinez (1915- ) was in the Army during World War II and so was his brother Phillip. According to Maria, John went to a military school in Atlanta, Georgia, and he was there for two or three years. There seems to be no other information on John, as to what he did after the war or when he passed away.
Our records show that we have had only one other painting by John and that was in 2002. They appear to be very rare.
*According to Wikipedia, the football helmets being used at the time were leather! It wasn't until about 1940 that they had hard plastic helmets. The picture of the leather helmet (seen right) was similar to what John would have worn playing football and an example of a football team is below. Photos are Public Domain (Wikipedia). No wonder Maria was concerned about her son!
Relative Links: Maria and Julian Martinez, Adam Martinez, Popovi Da, The Legacy of Maria Poveka Martinez