José Angela Aguilar, San Ildefonso Pueblo Painter
---
+ Add Artist to My Preferences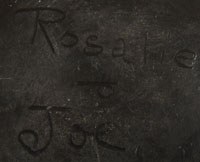 San Ildefonso artists Rosalie Simbola Aguilar and José Angela Aguilar pottery vessel creations seem to be rarer and more collectible than most. Although they may have been prolific potters, they were producing at a time before pueblo pottery became a serious collectible and most likely most of the wares they sold before the 1940s have long ago been discarded and destroyed. Hopefully, several of their pottery vessels are in museum collections.
Rosalie Simbola Aguilar (1898-1947) was originally from Picuris Pueblo. In 1922, at the age of 24, she married José Angela Aguilar (1898-1965) of San Ildefonso Pueblo and they settled there. The couple had one child, José Vicente Aguilar. Rosalie, in addition to producing Black-on-black pottery also made carved designs. She and Rose Gonzales were the only two potters at the pueblo to produce carved wares and both were imports from other pueblos.

Jonathan Batkin included Rosalie in his article Three Great Potters of San Ildefonso, published in American Indian Art Magazine in 1991. That gives one an idea of just how great she and her husband were at making contemporary pottery. There is no mention of him in either Clara Lee Tanner's book or in Dorothy Dunn's book as a painter of paintings; however, there are other references that indicate he was. Snodgrass, in her book, stated "The artist has been actively engaged in art and related subjects since 1944. In 1949, he began painting experiments in new directions." Seymour stated, "In 1987 the artist was working in the California aerospace industry doing technical drawings and only an occasional painting for friends."
Relative Links: Picuris Pueblo, Rosalie Simbola Aguilar, San Ildefonso Pueblo, Jose Aguilar - Yellowbird, Southwest Indian Pottery, Rose Gonzales, American Indian Art Magazine, Suzanna Aguilar
** If you discover credit omissions or have additional information to add, please let us know at Marketing@adobegallery.com.