Joseph R. Willis, Western Painter and Photographer
---
+ Add Artist to My Preferences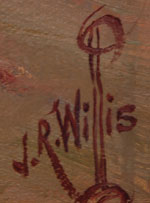 J.R. Willis is best known for his Indian photographs and paintings and Southwestern landscapes. During the winters, he spent time in the Miami, Florida area where most of his brothers, sister, and mother lived, and from there, he made frequent trips to Cuba, Haiti, and the Dominican Republic where he did landscape painting. He also made frequent painting trips to Mexico and at least one trip to Guatemala, Central America.
The artist, known as J.R., was born in Goloid Community Screven County, Georgia, near Sylvania, on the 24th of November, 1876. He died December 30, 1960 in Albuquerque, New Mexico. He married Tempie Easterling of Reidsville, Georgia in 1899. They had three daughters and were divorced. In 1916, he married Violet Powell of Ontario, Canada.
Willis traveled throughout the Southeastern part of the United States where he took advantage of the beauty of the region to paint many portraits and landscapes. Near the end of his life, he was faced with failing eyesight, but continued to paint until the time of his death.
His career began as a political cartoonist during the Spanish American War. He worked at the "Atlanta Constitution" before going to New York to study art about 1908. Then he went to California, where he was a pioneer in the cartoon industry. He also spent 10 years as a "chalk talk" artist in vaudeville.
In 1917, he was booked at a theater in Gallup, New Mexico when the owner of the theater died of influenza. Willis bought the theater and established a photography studio in Gallup. In 1931, he moved to Old Town, Albuquerque, New Mexico, and in 1938, he built his home and studio at the corner of Rio Grande and Alhambra Drive South West in the country club district of Albuquerque. The property is now a bed and breakfast known as "Casa de Suenos."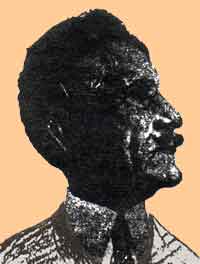 Willis was known as the "Aspen King" because of his many paintings of the beautiful aspen trees which turn a golden color in the fall of the year. He was also known for his portraits of American Indians, principally of New Mexico and Arizona. His work was realistic. Photography was another medium for which he was well known. Many of the photographs were used to make view- master reels and post cards, which have become quite collectible today.
In addition to the Albuquerque Museum, his work is found in a Japanese museum in Imabari, Shikoku and a museum in Valledupar, Cesar, Colombia, South America. Many pieces of his work are in private collections in this country and Germany.
His style is very similar to Frederic Remington and Charles Russell. He studied with Robert Henri in New York.
Biography from AskAR - The following is from Scott L Peeler, Jr., Valrico, Florida. He is the maternal grandson of the artist through his mother, Emily Willis Peeler
---
Joseph Roy (J. R.) Willis (1876-1960) was a legend in Albuquerque. He was a slim gent with a small mustache. He wore capes. He twirled canes. He smoked Pall Malls (cigarettes) in an ivory holder. He loved, more than anything, to discuss his paintings. Albuquerque old- timers, who were fascinated by his foppish bearing, remember him. He had flair, a flakiness that today would be considered weird. J. R. Willis was just different. He was an artist. He came from the Southeast to chronicle the Great Southwest. Willis learned art on slates. He made fashion drawings for the Atlanta Constitution. He painted backdrops for Universal Studios in Hollywood. In 1917, Willis left for New York to discuss cartoon syndication. He stopped in Arizona to sketch Hopis. He decided to stay in the Great Southwest. He moved to Gallup and set himself up as a photographer, and toured the reservations to photograph Navajos, Hopis, Zunis, Lagunas and Acomas. He would then use the photos as sources for his paintings.
** If you discover credit omissions or have additional information to add, please let us know at Marketing@adobegallery.com.