Milford and Josephine Nahohai, Zuni Pueblo Potters
---
+ Add Artist to My Preferences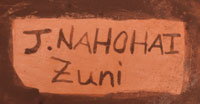 Zuni Pueblo artist Josephine Nahohai started making pottery in the 1950s. According to the book, Dialogues with Zuni Potters, she states that she was making jewelry when a relative told her she should try pottery because she would not have to purchase any materials as they were all provided by Mother Earth. She started making owls by making two bowls and putting them together. Thus, a new pottery artist was created.
Josephine Nahohai (1912 - 2007) continued to make pottery for 50 years. She won a lifetime achievement award at the 2006 Indian Market when she was 93 years old. Josephine Nahohai was also a Zuni Olla Maiden, performing throughout the country.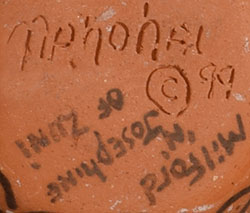 In 1986 Nahohai was awarded a grant at the School of American Research (SAR) where she could study old Zuni pots. After this experience, she abandoned the designs she had used for years and adapted new but traditionally based designs modified from the historic and prehistoric pottery she had seen in the collections. She had learned potting from two aunts, and, following the SAR grant, she began teaching others.
Josephine Nahohai was the mother of famous Zuni potters Randy Nahohai, Milford Nahohai, and Priscilla Nahohai. Milford Nahohai sometimes collaborated with Josephine on pottery production.
Reference: Dialogues with Zuni Potters by Milford Nahohai and Elisa Phelps.
Relative Links: Southwest Indian Pottery, Zuni Pueblo, Pottery Figurines, Randy Nahohai
** If you discover credit omissions or have additional information to add, please let us know at Marketing@adobegallery.com.