Linda Jo′Povi Askan, Santa Clara Pueblo Potter
---
+ Add Artist to My Preferences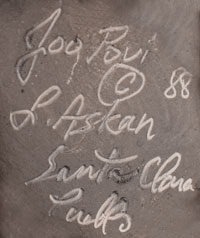 Linda Jo'Povi Askan is a potter of Santa Clara Pueblo and Diné of the Navajo Nation descent. She makes traditional red and black Santa Clara pottery, as well as various types of figurines. Linda creates both the traditional Santa Clara Pueblo black-on-black, carved blackware and redware jars, bowls, wedding vases, storytellers, Nativity sets, figures: bears, turtles, coyotes, skunks, and fish.
She began potting in 1984 and was taught her craft by her mother and grandmother. Both her grandmother and her mother, Marie Sisneros Askan were instrumental in teaching Linda how to create pottery in the traditional way. Linda's sister Birdell Bourdon is also a potter.
Linda's native Tewa name, given by her grandmother Adelaide (Lala) Sisneros, is Jo'Povi which means "cactus flower."
Linda Jo'Povi Askan (1954-) Cactus Flower attended the Institute of American Indian Arts after graduating from Espanola High School. She is also a Respiratory Therapy Technician and worked in local hospitals before working as a potterer full-time.
Reference: Pueblo Indian Pottery: 750 Artist Biographies by Gregory Schaaf
TAGS: Santa Clara Pueblo, Southwest Indian Pottery Figurines, Diné of the Navajo Nation, Marie Sisneros Askan