Manuel Hoyungowa (ca. 1953–2011) Hopi Tribe
---
+ Add Artist to My Preferences

Manuel Hoyungowa is from the village of Hotevilla on Third Mesa and has been an active silversmith at Hopi Pueblo since the 1970s. His hallmark is a strong raincloud.
Although he has produced some jewelry with coral and turquoise, more in the style of Navajo work, Hoyungowa is a master silversmith which is evident in his traditional Hopi silver overlay technique jewelry. Hoyungowa actually learned silver overlay technique from Preston Monongye (his uncle and another famous Hopi artisan) and the Institute Of American Indian Arts in Santa Fe, New Mexico.
More History: The Indian Arts and Crafts Board (a government department) and the Hopi Tribe collaborated on the formation of the Hopi Silvercraft Guild in 1949 and noted Hopi artist Fred Kabotie became the manager. It was then that Hopi overlay jewelry found it acceptance.
Hopi overlay technique involves cutting out the desired design in one piece of silver and overlaying that onto another piece that has been incised and oxidized. Polishing is accomplished with steel wool which results in a matte rather than a shiny surface.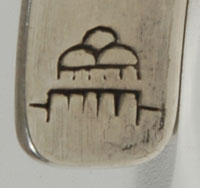 Photo of Manuel Hoyungowa courtesy of Gregory Schaaf (see reference below). Photo of his hallmark (strong rain cloud) is by Adobe Gallery.
References:
The Little Book of Marks on Southwestern Silver, Silversmiths, Designers, Guilds and Traders by Bille Hougart. The spelling of his name in this book (page 154) is: Manuel Hoyungwa.
American Indian Jewelry II: A-L 1800 Artist Biographies by Gregory and Angie Schaaf. The spelling of his name in this book (page 256) is: Manuel Hoyungowa (Manuel Hoyungwa).
** If you discover credit omissions or have additional information to add, please let us know at Marketing adobegallery.com.