Margaret and Luther Gutierrez (1936-2018 / 1911-1987)
---
+ Add Artist to My Preferences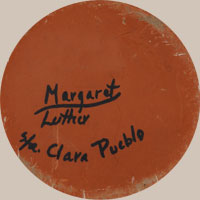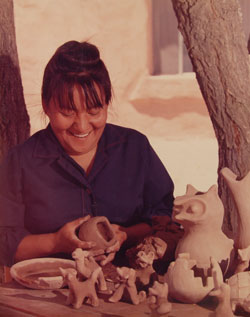 Margaret and Luther Gutierrez were the children of Lela and Van Gutierrez. Working together, the siblings continued the polychrome style of painting begun by their parents.
No other family of potters at Santa Clara Pueblo used the mixture of natural colors in their pottery, colors ranging from tan, red, green, blue, gold, black and white, all obtained from natural pigments.
Sometimes their work is whimsical and other times it is most elegant.
Photo of Margaret Gutierrez by unknown source photographer - we had the original photograph at the gallery.
Update: we sadly announce that Margaret Gutierrez of Santa Clara Pueblo passed away on the 22nd or 23rd of January, 2018.
** If you discover credit omissions or have additional information to add, please let us know at Marketing adobegallery.com.