Marianne Navasie, Hopi-Tewa Potter
---
+ Add Artist to My Preferences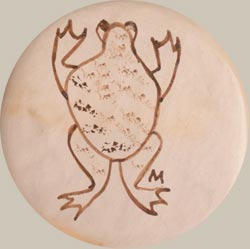 Marianne Navasie was a Hopi-Tewa potter and a member of the Kachina Clan. Active in pottery making from 1970-2007, she is known for her Black and red on yellow, black and red on white bowls.
Born into a famous family of pottery experts, Marianne (1951-2007) was the granddaughter of Paqua Naha, the first Frog Woman, and the daughter of Joy Navasie, the second Frog Woman. Her husband is Harrison Jim.
Marianne was taught how to make pottery by her mother, which led to her continuing the style her family had established. She was active as a potter from 1970 until her passing in 2007.
Reference: Hopi-Tewa Pottery: 500 Artist Biographies by Gregory Schaaf.
TAGS: Southwest Indian Pottery, Hopi/Tewa, Paqua Naha, Contemporary Pottery, Hopi Pueblo, Joy Navasie