Narciso Platero Abeyta (1918-1998) Ha So De - Fiercely Ascending
---
+ Add Artist to My Preferences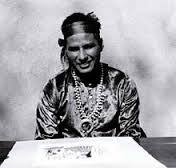 Narciso Platero Abeyta (1918-1998) Ha So De - Fiercely Ascending began his art career at the early age of 11 by drawing his first creations on canyon walls on the Navajo Reservation. By age 32 he was published in Art in America. He developed a markedly unique style of broad brush strokes and flowing lines, at times appearing almost nonchalant. He outlined his figures in colorful bands, reminiscent of multiple borders on the Navajo rugs he must have seen the women weaving as he grew up on the reservation. He seemed unconcerned with small detail but only with the sweep and dash of movement in free spirited scenes. His was a positive artist.
Ha So De studied at the Santa Fe Indian School, and after World War II, at the University of New Mexico, where he studied with the famed Modernist painter Raymond Jonson. During World War II, he was one of the famed Code Talkers. He garnered many prizes for his work, notably at the New Mexico State Fair, Scottsdale Chamber of Commerce, Gallup Ceremonials, at Philbrook Museum, and the Fine Arts Gallery in San Diego. He has been exhibited throughout the United States and Europe.

Narciso Platero Abeyta is the father of Tony Abeyta and Elizabeth Abeyta Rohrscheib and Pablita Abeyta.
Photo Source of Ha So De: Wikipedia
References:
Southwestern Indian Painting, a Changing Art, by Clara Lee Tanner. University of Arizona Press, 1957.
American Indian Painting of the Southwest and Plains Areas, by Dorothy Dunn. The University of New Mexico Press, 1968.