Narciso Platero Abeyta, Ha So De, Navajo Painter
---
+ Add Artist to My Preferences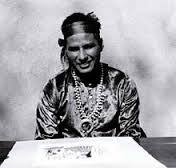 Navajo artist Narciso Platero Abeyta was an innovative and influental Diné painter. He was also a silversmith, Golden Gloves boxer, and one of the hundreds of important WWII heroes known as Navajo Code Talkers who served in the Marines during this important time in America's history.
Narciso Platero Abeyta (1918-1998) Ha So De - Fiercely Ascending received his initial art education at the Santa Fe Indian School, whose art instructor Dorothy Dunn commented on his abilities in her book American Indian Painting of the Southwest and Plains Areas: "Ha-So-De developed a markedly unique style, although, in his formative period, his admiration for the work of (Navajo painter Andy) Tsihnahjinnie could be clearly seen. It was a fine influence and used honorably by the younger painter. His paintings of hunt and home scenes were broad in brushwork and flowing in line, at times appearing almost nonchalant. He was never concerned with small detail but only with the sweep and dash of movement in wild, free scenes. His was a positive art." He received further education at the University of New Mexico, where he studied under famous modernist painter Raymond Jonson. Abeyta garnered many prizes for his work, notably at the New Mexico State Fair, Scottsdale Chamber of Commerce, Gallup Ceremonials, at Philbrook Museum, and the Fine Arts Gallery in San Diego. He has been exhibited throughout the United States and Europe.
Ha So De and wife Sylvia Ann had seven children, many of whom—Tony Abeyta, Elizabeth Abeyta Rohrscheib and Pablita Abeyta—became notable artists themselves. Ha So De is highly revered by collectors of Native American paintings, and his works are included in numerous prestigious public and private collections.

Artist Image Source: Wikipedia
References:
- Southwestern Indian Painting, a Changing Art, by Clara Lee Tanner. University of Arizona Press, 1957.
- American Indian Painting of the Southwest and Plains Areas, by Dorothy Dunn. The University of New Mexico Press, 1968.
Relative Links: Dorothy Dunn, Andy Tsihnahjinnie, Raymond Jonson, Tony Abeyta, Elizabeth Abeyta Rohrscheib, Native American paintings, Diné of the Navajo Nation