Persingula Gachupin, Jemez Pueblo Pottery
---
+ Add Artist to My Preferences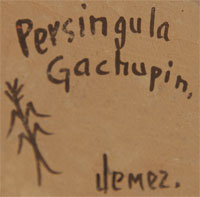 Persingula M. Gachupin Jemez/Zia Pueblos, Corn Clan, active 1930s-1980s Persingula made traditional matte polychrome, Black-on-white redware and tanware Storytellers, figures, owls, Nativities, jars and bowls. Persingula Gachupin was the daughter of Ramon Madalena from Jemez Pueblo and Benigna Medina Madalena from Zia Pueblo.
Persingula M. Gachupin (1910-1994) marred Joe R. Gachupin. They raised two daughters, Maria G. Romero and Leonora G. Fragua, who became fine potters. In the 1960s, Persingula and her daughter, Marie Romero, were the first potters at Jemez Pueblo to introduce Storytellers and Nativities. They also are known for making fine matte polychrome on polished redware pottery.
Reference: Southern Pueblo Pottery: 2,000 Artist Biographies by Gregory Schaaf.
Relative Links: Southwest Indian Pottery, Jemez Pueblo, Contemporary Pottery, Marie Gachupin Romero